From resistance to power: Building climate justice in Colombia
This article was published on
| News and analysis
Image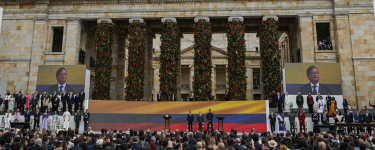 Colombia's new government was formed in the grassroots organisations of its most marginalised people. Now it must translate one of the world's boldest climate justice platforms into policy. Progressives around the world should watch closely.
Gustavo Petro and Francia Márquez were sworn in as Colombia's President and Vice President on 7 August 2022. For the first time, an inauguration ceremony was celebrated in streets up and down the country, with flags and chants from every social movement, ancestral blessings from Indigenous and Afro-Descendant communities, vibrant feminist performances, and theatrical interventions of all sizes, all political.  
This was a true celebration of Colombia's most marginalised groups and their diversity – women, Afro-descendant, Indigenous and campesino communities, workers, LGBTQI communities and disabled people. The ceremony was unlike any of the elitist and exclusionary inaugurations of Colombia's past. Against the backdrop of Colombia's painful history, it embodied hope and the potential for societal transformation.  
The Pacto Historico (Historic Pact), a broad left-wing political coalition, won its historic election victory on 19 June 2022. In the following two months, Petro and Márquez have had to swiftly transition from grassroots campaigning to national government— from resistance to power.
President Petro and Vice President Márquez's government marks the beginning of a new Colombia — the first ever left-wing government, drawn from and supported by a diverse resistance movement of ordinary people, with a rich history, and plurality.[1] This moment is an important step in in the fight for climate justice in Colombia beyond. 
The shock and the elation have been hard to overcome, according to President Petro, but the new government knows what is at stake – for the first time in over 200 years, marginalised communities are represented in the highest office. Now, Petro and Márquez must translate that representation into political and economic transformation.  
Image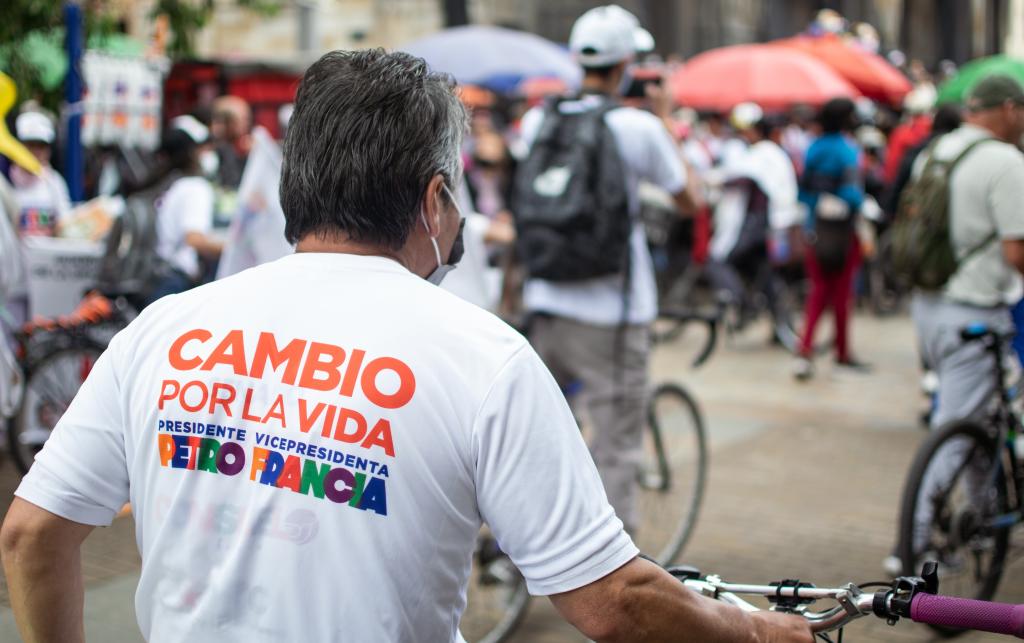 Transformation.
The new Colombian government has laid out a hugely ambitious climate and environmental justice agenda — promising to end the destructive model of resource extraction which is driving climate devastation; and build a new relationship with nature. President Petro has vowed to end fossil-fuel dependence[2] — gradually but definitively — starting with a ban on fracking, offshore drilling and coal mining, as well as prohibiting any new exploration licences for oil projects.  
The new Energy Minister, Irene Vélez, has been tasked with the gargantuan job of implementing this transition from fossil fuels to a democratically-controlled renewable energy infrastructure. Vélez relishes the opportunity, as she has been fighting this battle for some time; working alongside communities defending their territories from aggressive, destructive extraction — carried out to produce profit for wealthy international corporations.  
Velez believes that an economy dependent on oil and fossil fuel exports is destined to fail. Relying on dangerous technologies such as fracking, or on trading fossil fuels which are likely to become 'stranded assets' — worth less than expected, if reserves are kept in the ground to meet climate targets — is a lose-lose situation.[3] Instead, Velez and Petro want to refocus domestic production and land use away from corporate profits and towards providing for social needs, to establish an 'economy for life.' 
Participation.
 A radical transformation is essential, as Francia Márquez says, to defend the 'great womb, our big home'. The first Black Vice President of Colombia, Márquez is a tireless community leader who represents the visceral voice of Colombia – and is a long-standing ally and friend of War on Want. Márquez is already doing things her own way. As she was sworn-in she said:
I swear before God, the people of Colombia, and my ancestors, to respect the Constitution and work for those Colombians who have historically been excluded, until dignity becomes the norm.
Vice President Márquez's ancestral blessing, and focus on excluded Colombians, broke with protocol — and reflects her vision of widening participation. Reorienting the economy will be no small feat, and it is crucial that the process is community-led. Márquez, with her roots in radical Black, feminist and land workers movements, will play a crucial role in holding her own government to account — ensuring nobody is left behind.  
María Susana Muhamad, the new Minister for the Environment, echoes this sentiment. The transition must be built alongside the frontline communities who have defended nature, water, and territory for millennia. In an important first move, Muhamad, who accompanied Petro as Environment Secretary during his time as Mayor of Bogotá, invited the country's environmental and climate justice organisations and movements to the table to discuss their historic demands.  
Our partner CENSAT Agua Viva, one of the country's leading and best-established environmental justice organisations, is hopeful that Muhamad's invitation will open a door to a more meaningful, inclusive and collective democratic process.[4]
Inspiration.
Crucially, Colombia's new government is taking the challenge to the rest of Latin America's progressive governments, imploring them to stop associating social justice and the redistribution of wealth with oil and gas exports.[5] Leading by example, Colombia could become a model for Global South economies seeking to implement energy transitions on their own terms.  
But bold moves such as ending economic dependence on extraction and deforestation, require that countries in the Global North, which bear the greatest responsibility in creating the climate crisis, do their fair share of action. 
As President Petro put it, 
It is the rich in the world, not us, who emit greenhouse gases, bringing humanity closer to extinction.
He continued: "But we do have the largest sponge for absorbing these gases after the oceans: the Amazon rainforest. Where is the global fund to save the Amazon rainforest? Speeches won't save her. The entire population that today inhabits the Colombian Amazon can become the principal custodians and carers of the jungle, but we need the funds to do so." 
In the eyes of the new Colombian government, the choice is clear for rich Global North economies, either do your fair share of effort to finance the transition, or help to create the conditions for it — starting with cancelling or swapping debt to enable real climate action. Those of us here in the UK, who stand for climate justice, must answer Colombia's call — learn from the resistance and build with Colombians the power to transform our world.