Statement on Palestine (October 2023)
This article was published on
| News and analysis
Image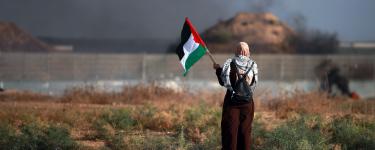 We are deeply concerned by the escalation of violence in the occupied Palestinian territory of the Gaza Strip and the West Bank, and Israel. This has resulted in an unacceptable loss of life — and we urge all parties, including the international community to work to stop the bloodshed.
UPDATE: 28 October 2023,11:06am
After 21 days of brutal bombardment, on the night of Friday 27 October Israel plunged the Gaza Strip into darkness, cut off all communication as it intensified its aerial and naval bombardment, and began a ground incursion of the Gaza Strip – resulting in more untold deaths. 
Israel's apartheid regime had already killed 7,434 Palestinians in its war on Gaza. This escalation, in what UN leaders have called a 'genocidal campaign', means more indiscriminate violence towards Palestinians trapped by Israel's occupation and siege. With huge swathes of the Gaza Strip in ruins from Israel's bombs, for Palestinians, there is no place of safety left.
Palestinians in the Gaza Strip have already faced over 50 years of Israel's illegal occupation and 16 years of illegal blockade. Israel's escalation of military attacks on a people under its occupation puts Palestinians in the Gaza Strip at even more urgent risk of ethnic cleansing. It threatens to pave the way for a regional escalation of war, with even more devastating consequences.
For the past two weeks, in the face of humanitarian crisis and unthinkable casualties, the UK government has refused to call for a ceasefire.
Even in the face of mounting evidence of war crimes committed by Israel, the UK government has provided military equipment and weapons to Israel's apartheid regime, and is complicit in the mass ethnic cleansing of the Palestinian people.
Instead of upholding international law, the UK government has spent three weeks using its considerable diplomatic strength to justify and minimise Israel's continuing war crimes — from the total siege of a civilian population in Gaza, to the bombing of schools and hospitals — offering uncritical, unequivocal 'support'.
Now, as Israel's aerial bombardment intensifies and a ground incursion begins, we stand with the Palestinian people against the indiscriminate violence of Israel's military – aided by the UK government. 
The UK government must live up to its obligations under international law and use every channel in its power to call for immediate de-escalation and an immediate ceasefire.
Hundreds of thousands of UK citizens have taken to the streets, demonstrated, written to their MPs, signed petitions – to demand an end to the UK's continued complicity in Israel's occupation, apartheid and ethnic cleansing.
Whilst the UK government has shown time and again its preference for clamping down on the rights of citizens rather than fulfilling its own moral and legal responsibilities, the power of our humanity will prevail.  
Today, Saturday 28 October, protestors in London will take to the streets in what is likely to be one of the biggest demonstrations of solidarity in this country's history. They will be joined by protests throughout the UK and across the world. This is a watershed moment. It has never been more crucial that we continue to raise our voice louder and louder, to hold the UK government to account, and to assert the universal rights of the Palestinian people to freedom, justice and return.  
The UK government must act and live up to its obligations under international law and use every tool available to call for an immediate ceasfire. 
UPDATE: 18 October 2023, 5:51pm
Last night, on Tuesday 17 October, Al-Ahli hospital in the Gaza Strip was bombed, killing over 500 sick and injured Palestinians, doctors, nurses, and Palestinian refugees sheltering from apartheid Israel's ongoing bombardment. This is a war crime. Palestinians are urgently demanding an immediate ceasefire. Yet amid such a horrific loss of life, the international community – including the UK government and opposition parties – have blocked demands for a ceasefire to uphold international law and protect Palestinian lives.  
The Israeli military is now denying responsibility for the massacre at Al-Ahli hospital – after Israeli officials initially claimed responsibility for the attack. Israeli forces had previously shelled the hospital on Saturday (14 October), after which Palestinian health officials received a warning call from the Israeli military to evacuate the hospital, along with five others. 
Prior to yesterday's attack (17 October), the Israeli military had bombed 16 Palestinian hospitals across the past 11 days, including attacking a children's hospital with white phosphorous – a banned substance causing severe burns and uncontrollable fires. Israel has also attacked what it called 'evacuation corridors' out of Gaza, killing fleeing Palestinian civilians, aid workers and journalists.  
Israel's apartheid and occupation regime routinely lies to hide its war crimes – and enable these crimes to continue. Time after time, from the bombing of children on the beaches of Gaza in 2014, to the killing of Palestinian journalist Shireen Abu Akleh in 2022, to the strike on fleeing Palestinian civilians in the Gaza Strip just last week, these lies have been disproved.  
Western political leaders' lack of action or condemnation has emboldened Israel to act with impunity and accelerate its ongoing genocide of the Palestinian people, destroying homes, schools and hospitals as it bombards the Gaza Strip. 
The situation has never been more urgent. In the words of the Director of the United Nations Relief and Works Agency for Palestinian refugees (UNRWA), "Gaza is running out of life". As vital resources run out and Gaza's health infrastructure – already battered by Israel's 16 year-long blockade and periodic bombardment – 'collapse before our eyes', Gaza's remaining hospitals are turning into morgues.  
In just one week, between 7-12 October, Israel dropped over 6,000 bombs on the Palestinian people living under its illegal occupation. As of 18 October, over 3500 Palestinians have been killed. This includes over 1100 children. 
Over the past week, the UK government and opposition parties have violated their own duty to uphold international law, by stating the UK will provide 'unequivocal support' for the Israeli state and sending military aid to Israel – even as it tears international law to shreds. Now, after vocal pressure from citizens of conscience, the UK government and opposition are belatedly rolling back on the most extreme rhetoric.  
The UK government has pledged to increase aid to the Gaza Strip, with UK PM Rishi Sunak stating that "we must support the Palestinian people". However, as the Palestinian people have made clear, support means demanding an immediate ceasefire, access for humanitarian aid, protection from forcible transfer – and for their universal human rights to be realised. 
Urgent pressure from citizens of conscience is needed to stop Israel's apartheid regime from carrying out a genocide of the Palestinian people. It is essential that the UK government and opposition parties do everything in their power to prevent it.  
UPDATE: 13 October 2023, 12:43pm
We are witnessing a genocide unfolding. And the UK government is supporting it.  
This morning Israel issued an 'evacuation' order to 1.1 million Palestinians in northern Gaza including Gaza City — half the population of the Gaza Strip. The Israeli military have given Palestinians just 24 hours warning to leave their homes: which the UN has said is an impossible order.  
Israel's apartheid regime has ensured that there is no place of safety to flee to in the entire Gaza Strip, making this an order for nothing less than mass ethnic cleansing. The Israeli military has stated that Palestinians will not be allowed back 'until we say so'.  
It is likely Israel will imminently enact a ground offensive with intent to indiscriminately kill Palestinians in north Gaza; classifying every man and child who appears over 18 as active combatants. Israel is aiming to ethnically cleanse more Palestinians in a single day than during the Nakba (Arabic for 'catastrophe') in 1948, when over 750,000 Palestinians were expelled from their homes - or any day since in their ongoing settler-colonial occupation of Palestine. The vast majority of Palestinians in Gaza are refugees from the Nakba.  
Defence Minister Grant Shapps has made extremely clear that the UK supports Israel's evacuation order and military activities — going so far as to dispatch a UK military package to the region "to deliver practical support to Israel." The UK should be ending its shameful arms trade with Israel in the wake of these growing atrocities, not increasing its military complicity with Israel's lethal violations of international law.  
In the latest escalation of violence, Israel has already killed at least 1600 people including 500 children, injured over 66,000 and displaced over 400,000. Due to the implementation of a "total siege" on the Gaza Strip and the purposeful targeting of civilian infrastructure such as hospitals, which both constitute war crimes under international law, people are dying of treatable injuries.  
Human Rights Watch has also confirmed Israel's illegal use of white phosphorous in civilian areas in the Gaza Strip, causing severe burns and uncontrollable fires.  
In the West Bank, Israel has imposed a total blockade. The Israeli military is attacking Palestinians protesting the genocide in the Gaza Strip with lethal military force, and is providing thousands of weapons to Israeli settlers inside the West Bank. Reports are indicating Israeli settlers are attacking and killing Palestinians. 
The UK government was right to condemn the atrocities, including use of white phosphorous, perpetrated in Russia's illegal war on Ukraine, yet continues to uncritically state its support for Israel amidst its unfolding crimes against humanity. This selective application of international law is unacceptable.  
UK government's statements are aiding in the justification of Israel's war crimes, and the erasure of Palestinian lives and rights. UK weapons are being used against the Palestinian people. The UK is complicit in an unfolding genocide.  
The UK bears a particular responsibility to the Palestinian people due to the fact of its colonial history in Palestine. The UK government must act to defend the Palestinian people and their rights, and work to end the violence – including its root cause: Israel's ongoing illegal occupation and apartheid regime. People of conscience everywhere stand in solidarity with the Palestinian people. We must compel the world to act to uphold human rights and international law.  
ORIGINAL STATEMENT: 10 October 2023, 3:54pm
All perpetrators of human rights violations and war crimes must be held to account. We condemn Hamas' attacks on Israeli civilians and the holding of civilian hostages, and Israel's retaliatory attacks, using the full force of one of the most powerful militaries in the world indiscriminately against the trapped Palestinian civilian population. All parties must live up to their own obligations under international law to protect civilian life.  
This continuing cycle of violence is firmly rooted in Israel's ongoing 75-year colonisation and illegal occupation, 16-year illegal blockade of Gaza and the maintenance of an apartheid state. Just two weeks ago the UN warned that Israel's increasing military raids and attacks, rising use of military force and use of administrative detention, as well as increasing the pace of illegal settlements, and the state support for Israeli settler violence against Palestinians is a violation of Palestinians rights, and was precipitating a spiral of violence. The Israeli military had already killed over 240 Palestinians, including 45 children in this year alone, before this recent escalation — making it the deadliest year for Palestinians since 2014.
In the past few days, reports indicate Hamas fighters have killed at least 900 Israelis and injured over 2,600 (according to Israel's health ministry). Israel has responded, as we have seen time and time again, by subjecting the Palestinian people to acts of collective punishment — illegal under international law. Israel's attacks on the Gaza Strip and the occupied West Bank, have already killed at least 721 people and injured over 4,000, according to the Palestinian Ministry of Health. We condemn the indiscriminate heavy bombardment of the Gaza Strip, and the cutting off of energy, food, medical and water supplies which amplifies the daily suffering of a trapped population that has already endured extreme hardship through years of Israeli blockade. The numbers of casualties are rising as the violence continues, and it is once again civilians paying the price for the failure to end the occupation and the cycle of violence it facilitates. 
The use of language that further enflames tensions, escalates the crisis and dehumanises Palestinians by Israel's PM Benjamin Netanyahu and his government must be called out and challenged by the international community. We are alarmed by the growing erasure of Palestinian lives and rights in the statements made by the UK government. The UK government, and other members of the international community must make clear that Israel's 'right to defend itself' does not extend to perpetrating war crimes with impunity. Israel has a horrific track record of deliberately targeting civilians, using its military might and advanced military hardware to carry out disproportionate attacks, and indiscriminate attacks which kill or injure civilians can amount to war crimes. This oppression and brutality is carried out in service of maintaining Israel's illegal occupation and apartheid regime, themselves violations of the basic human rights of the Palestinian people. It is therefore crucial that the UK government ends its complicity in these crimes by ending all arms sales to Israel 
The international community has failed to hold Israel to account for its decades-long violations of international law. The cycle of violence must stop, Israel's illegal occupation must end, and the rights of all people must be respected.