Stop Arming Israel campaigners give Elbit a run for its money
This article was published on
| News and analysis
Image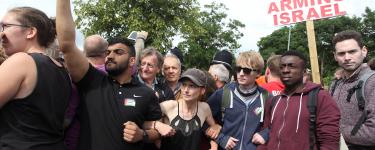 "Battle-proven…in over 40,000 successful combat missions." This boast appears in a promotional video for the Hermes 900 series drones. It's a frequently repeated phrase used by the Israeli weapons company Elbit Systems to market its military products. Elbit Systems, one of Israel's largest arms companies, showed this video at the Farnborough International arms fair in the midst of Israel's bombing of the Gaza Strip in 2014.
Elbit does not shy away from talking about the death and destruction its weapons cause. In fact, the company has sought to capitalise on this 'proof' that its weapons would be a good purchase for governments like the UK. That 'proof' was over 2,200 Palestinians dead and more than 100,000 left homeless, with over 9,000 houses totally destroyed.
Israel's war on the Palestinians, alongside increased conflict and repression around the world, has meant more profit for Israeli arms companies, exporting to the US (where Elbit has been contracted to fortify the border with Mexico), Brazil, India and beyond.
Elbit's operations in the UK go back over a decade:
2005: UK Ministry of Defence (MoD) awarded a contract to an Elbit Systems/Thales joint venture to develop the Watchkeeper drone for UK use
2007 onwards: Elbit is a regular guest and displayer at UK arms fairs (including Farnborough and DSEI)
Elbit has five factories and offices in the UK: Oldham, Shenstone, Tamworth, Leicester, Broadstairs
2016 (February): MoD awards Elbit (joint venture with KBR) a contract to provide flight training for UK pilots
In July 2016, on the two year anniversary of Israel's last major attacks on the Gaza Strip, Elbit announced that it is poised to expand, making explicit that the Brexit vote will not stop it from seeking new opportunities in the "strategically important" UK.
Grassroots opposition to Elbit in the UK
But Elbit is sure to run into difficulties expanding in the UK, as Stop Arming Israel campaigners have already given the company a run for its money over its operations here.
We have a long and proud history of grassroots opposition to militarism in the UK, feeding into targeted campaigns focused on particular arms companies and factories. Elbit emerged as a campaign target early on, with vigils and protests outside its factories around the UK. One local coalition of peace activists has been holding vigils at the Elbit factory in Shenstone since 2009.
Efforts were stepped up in 2011, after a broad coalition of Palestinian civil society groups called on their international friends and allies to undertake campaigns focused on Israeli arms companies and their trading counterparts around the world, to move towards a military embargo on Israel.
In August 2014, while Israeli bombs wreaked destruction in Gaza, over 100,000 people marched in the streets of cities in the UK to call on the government to stop arming Israel. Some campaigners took direct action, occupying the rooftop of the Elbit (UAV Engines) drone factory in Shenstone and shutting it down for two days. The rooftop activists were arrested and given dates to appear in court but they never got to argue their case. Afraid that judges would force Elbit to release information detailing its production and exports, the government and Elbit pulled the case at the last minute.
In February 2015, the Elbit factory in Broadstairs (Kent) was shut down for a day by another rooftop occupation by activists.
In July 2015, hundreds of campaigners protested at Elbit's factories in Shenstone, Broadstairs and Tamworth, shutting them down for the day (we got news that an Elbit factory in Australia was shut down on the same day too). In Shenstone, campaigners were met with a massive police crackdown, with 19 arrests. Elbit had convinced the court to issue a ban on anyone going close to the factory on the day that the protest was planned, which protestors were able to challenge and overturn in court after the fact.
Campaigners have continued protesting at these sites since then, and on 6-8 August 2016, cyclists and friends of the Big Ride will again visit the factory in Shenstone to hold a Stop Arming Israel protest (details in the link).
The broader context: UK-Israel arms trade
Elbit is a prime campaign target for those campaigning to end the UK-Israel arms trade, but it is not the only one. Over 100 companies with bases in the UK sell arms or provide security services to Israel. Since 2008, the UK government has approved the export of arms and other equipment to Israel worth £299 million, and is also a regular importer of Israeli-made weapons components and technologies.
The UK government's own criteria for arms exports ban sales to countries like Israel that regularly violate international law and human rights. Despite this, the UK continues to trade in arms with Israel.  
While the UK government refuses to apply its own standards to regulate the arms trade, there have been a few moments when massive popular pressure pushed the government to review certain arms sales to Israel. While this is far short of where we should be, it shows that with enough mobilisation, over time we can push the government to implement a two-way arms embargo on Israel.