Stop Arming Israel: HSBC and Elbit focus
This article was published on
| News and analysis
Image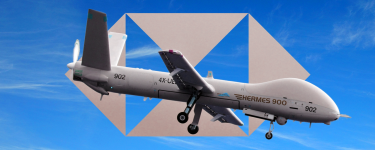 Stop Arming Israel campaigners renew focus on Elbit Systems and its British backer, HSBC.
Israel's militarised repression of Gaza's Great Return March has led Stop Arming Israel campaigners to renew their focus on UK complicity in Israel's violence against Palestinians. Israel's brutal response to the Great Return March protests is the latest episode of violence to be highlighted in the international media. But Israel's military might, maintained by its arms trade with foreign governments like the UK, is a key factor in sustaining a much larger system of injustice and perpetual violence against the Palestinian people. That's why justice campaigners here in the UK are increasing energy in our work to end the UK's complicity in Israel's abuse of Palestinian rights.
This week marks the four-year anniversary of Israel's deadly attacks on the Gaza Strip in 2014, when over 2,250 Palestinians were killed and thousands more injured, during relentless bombing of the already besieged and densely occupied Gaza Strip. Four years on, tens of thousands of Palestinians remain displaced, and all 1.9 million Palestinians in the Gaza Strip suffer from the crippling military blockade that prevents them from traveling and from accessing basic goods and materials necessary for survival.
Israel's blockade on Gaza, now in its twelfth year, has been called out as a form of collective punishment by the UN: a war crime under international law. This illegal blockade, on top of the decades of occupation, which itself was built on the mass expulsion of Palestinians from their homes in 1948, is the devastating backdrop to the daily violence Palestinians are forced to endure.
Israel's siege on Gaza was one of the reasons why Palestinians decided to participate in the Great Return March, which began this spring. They were protesting against Israel's oppressive rule which has deprived them of their most basic human rights, as well as their political rights to protest, to organise and to realise their right of return.
In an inspiring groundswell, week after week, tens of thousands of Palestinians joined together in protest camps along the edge of the Gaza Strip, collectively raising their voices to demand their rights. As one of the protest organisers wrote, "We stood against all the powers telling us to break and die in silence and decided to march for life. It is a protest of a people who want nothing more than to live in dignity."
Their call echoed and reverberated around the world, amongst Palestinians in the rest of historic Palestine as well as in exile and amongst the millions around the world who stand in solidarity with the Palestinian struggle for justice.
The Israeli military cracked down brutally on the Great Return March, killing over 130 Palestinians and injuring thousands. Gaza's already stretched medical services were barely able to cope with the waves of casualties, running out of even basic supplies such as saline. Israeli snipers took aim at unarmed protesters using live fire, not sparing journalists and medics wearing universally recognisable markings and who were amongst those killed and injured.
While the world condemned Israel's attacks on unarmed Palestinians, the UK government shamefully refused to do so, abstaining in a UN Human Rights Council vote for an inquiry into the violence in Gaza. Even worse, the UK Government is still refusing to review its arms exports to Israel, despite the fact that it has been called to do so by 60 MPs across parties and thousands of members of the public.
Since 2014, the UK Government has approved arms export licences to Israel valuing some £490 million. The licences include categories of arms used in Israel's attacks, such as sniper rifles, grenade launchers, surveillance drones and other equipment. While UK export controls are meant to prohibit the export of items that can be used in violation of human rights abroad, the UK Government insists it is confident that exports to Israel are not, while simultaneously claiming that it doesn't track items after they've been sold. While a range of human rights organisations, the UN and even the International Criminal Court have expressed concern, the UK Government is digging in its heels and refusing to conduct any due diligence.
It's not surprising then that campaigners are stepping up their efforts to stop 'business as usual' for the UK-Israel arms trade and they're targeting different points in the chain of complicity.
Image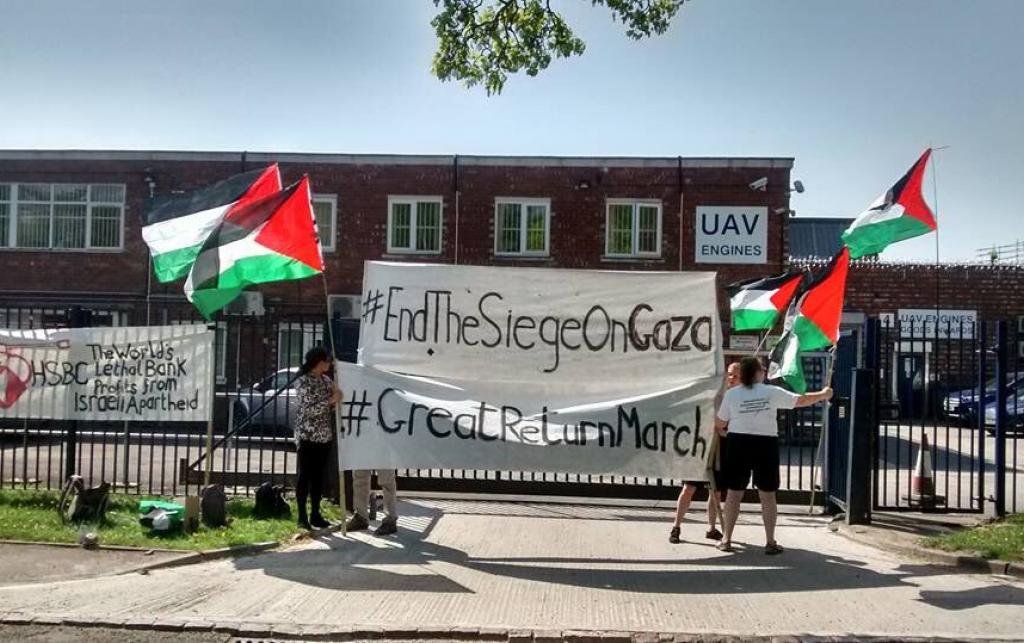 Campaigners are protesting at a number of Elbit Systems' UK-based factories, along with HSBC bank branches around the country. The story of Elbit and HSBC is one of the clearest examples of UK corporate and governmental involvement in a chain of complicity in Israel's systematic violence against Palestinians.
Elbit is one of Israel's largest arms producers and HSBC is one of its shareholders. With financial backing from HSBC and promotion, contracts and licencing permissions from the UK Government, Elbit is a favoured company in the UK, operating its deadly business from UK towns and cities.  By holding shares in Elbit, HSBC is complicit in the militarised repression of Palestinians.
HSBC claims that it has no responsibility for the actions of its clients, even if there is clear evidence that they are acting in violation of international law – this is a morally unsustainable position and campaigners are rightly challenging it.
Elbit provides a wide range of weaponry and technology to the Israeli military. Weapons supplied by Elbit were used during Israel's 2009 and 2014 assaults in Gaza, including aerial drones, armed ground robots, aerial platforms, smart helmets and tank visualisation systems. That means that its factories in the UK, such as the UAV Engines factory in Shenstone, are producing components used in attacks on Palestinians.
When Elbit develops a new weapon or military system, it first gives or sells it to the Israeli military to use. Elbit showcases its new technology, marketing it as "battle-tested" – meaning that it has been used against Palestinians. Elbit's share price rose during the 2014 attack on Gaza as investors anticipated the violence would lead to increased sales of newly tested weapons and military equipment.
Elbit has not just been key in providing the Israel's military with new technology – it has also helped Israel evade international law by producing canons for cluster munitions, which are subject to an international ban. Cluster munitions spread small bomblets over a wide area, posing an immediate, indiscriminate threat to civilians. Submunitions are always left behind. These submunitions don't explode on impact and like landmines, pose a deadly explosive threat even after the initial attack. Just last summer, Israel opted to make Elbit its canon supplier over a German firm, due to concerns that the latter would restrict the canons from firing cluster bombs.
As a key company in the Israeli arms industry, the presence of Elbit's factories in the UK should not go unchallenged. By targeting the factories, Stop Arming Israel campaigners are protesting the normalisation of militarism both in the UK and in Palestine. The Palestinian call for Boycott, Divestment and Sanctions is clear that a suspension of 'business as usual' with Israel is necessary to achieve justice for Palestine, and campaigners are answering this call.
By Alia Malak