The UK labour movement stands in solidarity with farmers in India
This article was published on
| News and analysis
Image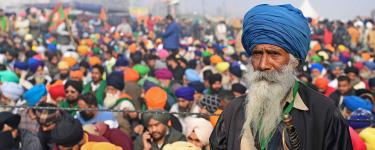 Indian workers and farmers have suffered increased levels of poverty as result of the Covid-19 pandemic. Yet the Indian government is seeking to impose policies that will further threaten the livelihoods of many of India's poorest citizens.
Originally published in December 2020.
Since November 2020, Indian farmers and their supporters have taken strike action and blocked access to Delhi and other major cities across India to demonstrate against three new laws which will have devastating effects on their livelihoods.
On 26 November 2020, more than 250 million workers and farmers took part in the largest nationwide general strike in labour history, and on 9 December the country was brought to a standstill by a National Shutdown.
They came together and issued a joint trade union charter of demands:
Direct cash transfer of Rs 7,500 (US $101) to all families who earn less than the income tax threshold.
10kg free rations per person every month to all in need.
Expansion of the Mahatma Gandhi National Rural Employment Guarantee Act to provide employment from the current 100 days to 200 days' work in rural areas with enhanced wages, and extension of this programme to urban areas.
Withdrawal of all anti-worker labour code changes and anti-farmer laws.
Stop the privatisation of public sector corporations, including those in the finance sector. Stop the corporatisation of government-run manufacturing and services entities in railways, ordinance manufacturing, ports and similar areas.
Withdraw the draconian circular of forced premature retirement of government and public sector employees.
Provide a pension to all, restore the earlier pension scheme and improve EPS 95.
In a worrying move from the government, peaceful protests to demand the repeal of anti-farmer and anti-worker labour codes have been met with violence in an attempt to repress dissent and actively attack the right to organise.
Despite the repression, Indian famers continue to protest as the new farmer laws seek to impose neoliberal policies that can only favour corporations, at the expense of the poorest in society. The new laws will mean that the minimum support price for farm products would be withdrawn, potentially leaving farmers without income and seriously affecting their livelihoods. 
Trade union leaders believe that the government is also using the global pandemic as an excuse to make arrests of union and farmers' organisation leaders.
The 8th round of talks collapsed on 7 January 2021 after the government offered a stay in the implementation of these laws –the farmers' leaders made it clear they would continue their action arguing that a stay is time-limited, not a solution.
Since then, India's supreme court has suspended the three laws and even went so far as to express concern at the government's lack of consultation with the farmers who stand to lose their incomes or even their ability to farm. The farmers are standing firm in their demands for these new laws to be repealed completely, and intend to march on Delhi on 26 January, India's Republic Day.
War on Want and our affiliates from the UK trade union movement have become increasingly alarmed at the repression faced by Indian famers and workers. 
We have joined together to issue the following statement to show our solidarity with all those in India who are standing up to protect their livelihoods and their rights to organise.
India farmers strike: Statement from UK trade unions
India's farmers will continue to protest against new farm laws that threaten the livelihoods of some of the poorest people in India, threatening to push even more into debt and poverty. Their protests have been met with repression by the Indian government, with police using water cannons and tear gas against peaceful protestors.
The Covid-19 pandemic has already left many of the poorest people across the world barely able to survive. The climate crisis is also plunging millions more into poverty and threatening food production.
Neoliberal policies that make the poorest pay whilst corporations amass massive profits have driven huge inequality and a planet on the edge of catastrophe.
The UK labour movement stands in solidarity with the hundreds of thousands of farmers in India and the wider trade union movement in India fighting for a just future.
Signed,
Asad Rehman, Executive Director, War on Want 
Frances O'Grady, General Secretary, Trades Union Congress (TUC) 
Mick Whelan, General Secretary, Associated Society of Locomotive Engineers and Firemen (ASLEF) 
Sarah Woolley, Bakers, Food and Allied Workers' Union (BFAWU)
Dave Ward, General Secretary, Communication Workers Union (CWU) 
Matt Wrack, General Secretary, Fire Brigades Union (FBU)
Warren Kenny, Acting General Secretary, GMB 
Henry Chango Lopez, General Secretary, Independent Workers' Union of Great Britain (IWGB)
Ian Lawrence, General Secretarty, Napo
Kevin Courtney, Joint General Secretary, National Education Union (NEU) 
Dr Mary Bousted, Joint General Secretary, NEU 
Mick Cash, General Secretary, National Union of Rail, Maritime and Transport Workers (RMT)
Steve Gillan,General Secretary, POA
Mark Serwotka, General Secretary, Public and Commercial Services Union (PCS)
Mike Clancy, General Secretary, Prospect
Manuel Cortes, General Secretary, Transport Salaried Staffs' Association (TSSA)
Dave Prentis, General Secretary, Unison 
Len McCluskey, General Secretary, Unite the Union
Dr Jo Grady, General Secretary, University and College Union (UCU)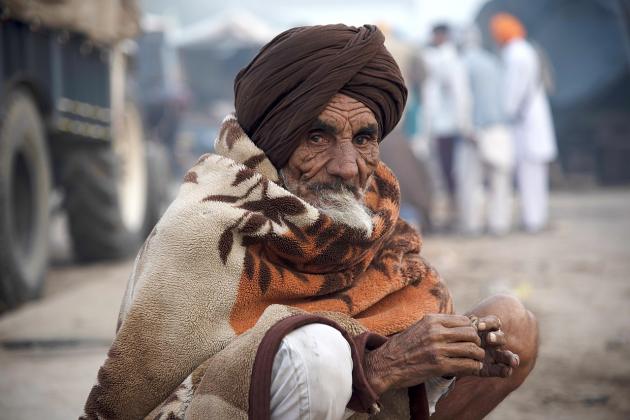 Take action!
Email the Indian High Commission in the UK, urging the Indian government to respect the farmers' demands
Act now