What's at stake in a US Trade Deal?
This article was published on
| News and analysis
Image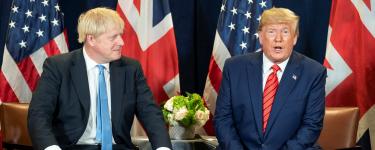 Update: The US-UK trade deal appears to have been kicked into the long grass, with discussions put on hold until 2023 or 2024. When US trade representative Katherine Tai met with UK Secretary of State Liz Truss on 22 March 2021, it became clear that there is not a timeline for completing a deal. As of April 1, any deal will not be covered by a "fast-track" process in the US Congress – which could make final agreement on any eventual deal much harder.
With the US trade deal out of the picture for the moment, the UK may direct energy into other trade deals, including the "Comprehensive and Progressive" Agreement for Trans-Pacific Partnership (CPTPP), which the UK formally announced an intention to join earlier this year. CPTPP is a 'done deal', meaning the UK would not be negotiating, but joining it. CPTPP contains clauses that would lock in a corporate court system (ISDS) already widely used by corporations to sue governments for the loss of projected profits, increasing corporate power and undermining policies that are in the public interest.
Original article: 16/05/2020
What's happening?
Amidst the chaos of the Covid-19 pandemic, the first formal round of US-UK trade deal negotiations are kicking off. A trade deal with US President Trump's administration poses serious risks to our health and NHS, food standards, workers' rights, and undermines efforts to address the climate emergency. The deal will be built on an agenda of deregulation, privatisation and 'corporate courts', all with the same aim – big business profits, whatever the cost to people and planet. As both countries deal with the consequences of a callous response to Covid-19, this deal is the last thing the UK, and the world, needs right now.
What is the background?
The USA has been the leading champion of the so-called 'free-trade' agenda of economic deregulation which puts corporate profit above human rights, and allows rich countries to dominate and exploit poorer ones. The UK is second behind the USA in promoting this agenda, which has helped to impoverish much of the Global South.
The US and UK governments have been discussing the possibility of a US-UK post-Brexit trade deal since 2017. The UK government has positioned the deal as one of the symbols of the UK's post-Brexit independence.
Secret negotiation documents leaked in November 2019 exposed the risks to the NHS posed by a US trade deal, and kept trade front and centre in the news. But this is far from the only threat posed to our rights, health and environment.
What's at stake?
At the heart of the deal is a deregulation agenda, which aims to remove so-called 'unwarranted barriers' to trade, in reality lowering our social, health and environmental standards. A deal would see UK health and safety standards pulled down to meet generally lower US standards , and would allow US regulators to influence and delay the implementation of UK policies, through a process known (ironically) as 'Good Regulatory Practice'.
The documents leaked from secret discussions between the two countries revealed that the US aims to undermine standards even beyond the UK's border. The US is insisting that the UK moves away from our more risk-averse 'precautionary principle', towards a more risky, so-called 'science based' approach in our deals with other countries.
Food and farming
A trade deal with the US threatens the UK's protective regulations on food and farming. British farmers will be forced to compete on price with US agribusiness, which uses cheaper and more dangerous farming methods. This will result in a race to the bottom, by:
Lowering animal welfare standards
Enabling meat to be imported that has been produced using hormones currently banned in the UK – such as ractopamine, a growth enhancer which causes animal organ failure, death and birth defects
Pushing for the sale of genetically modified food
Increasing the use of antibiotics in animal feed, risking anti-microbial resistance. Anti-microbial resistance can amplify mortality in pandemics.
In its negotiating objectives , the UK government has refused to rule out importing US products made through processes and using chemicals banned in the UK, including chlorine-washed chicken. The UK is forging ahead with this despite broad public opposition to lowering our food standards through a deal with the US.
Health and medicine
Under Johnson and Trump a US-UK deal risks undermining the NHS through deregulation and increased privatisation.
Although the government says that the NHS is not for sale, experience tells us such promises are empty. During CETA negotiations (the Comprehensive Economic Partnership Agreement), we were told the same thing, yet health services remained on the table.
The leaked negotiation documents revealed US trade negotiators repeated insistence [1] on a 'negative list' approach to trade in services. which forces countries to 'opt out' (rather than 'opt in') to services that the UK wants to liberalise. Until the UK rejects the use of negative lists and ensures that trade agreements exclude public services, our NHS is at risk.
Another clear aim of the US pharmaceutical lobby is to gain 'full market access for US products' and to get 'intellectual property rights that reflect a standard of protection similar to that found in US law' in a trade deal. This could mean that the NHS is prevented from bargaining down the price it pays for medicine. Combined with the impact of extensions on certain drug monopolies, the NHS would have to fork out significantly more for the same medicine than w we pay currently. Some of the same drugs cost seven times more in the US than they do now in the UK.
Corporate courts?
Investor State Dispute Settlement (ISDS) is a mechanism in trade deals that enables corporations to challenge, in a secret and parallel judicial system, policies that affect or might affect their profits – even when these policies are specifically designed to protect the public interest.
In practice, this means corporations can sue governments for doing almost anything they don't like. Governments have been forced to pay out millions of pounds of tax-payers' money to corporations through ISDS . In talks, although not specifically naming ISDS, the US and UK were revealed to be positively disposed towards strong investor protection. All the more concerning is that experts are anticipating governments across the world may face a wave of new ISDS cases for the measures they have taken to protect life and livelihoods from the threat of coronavirus.
A global, grassroots pushback against ISDS has forced some changes. However, these 'reformed' versions of ISDS – such as Investor Court System (ICS) and Multilateral Investment Court (MIC) – are essentially window dressing. In the words of former UN Independent Expert Alfred de Zayas:
"ISDS cannot be reformed. It must be abolished."
Climate justice
The leaked papers revealed that the US is outright refusing to discuss climate change in negotiations with the UK. A Trump trade deal would risk increasing commitments to carbon-intensive industries, prevent efforts to protect the environment, and penalise action on climate. The US has refused to sign up to the Paris Agreement. A deal with the US would undermine the UK meeting our own commitments to the Paris Agreement, and to any meaningful commitment to climate justice.
Actions that the UK government must take for the future of the planet – such as ending the use of fossil fuels – could be challenged as being a 'non-tariff barrier' to trade. Investor State Dispute Settlement (ISDS) mechanisms are often used by fossil fuel companies to sue governments taking action to reduce fossil fuel dependency, as research from Friends of the Earth and Transnational Institute has shown. Although the new trade deal between the US, Canada and Mexico, USMCA – which the US sees as a blueprint for its trade deals – has an amended version of ISDS that curbs rights for some investors ; these rules are laxer for oil and gas companies, who are often the recipients of the biggest ISDS awards.
What are we demanding?
If we are to protect our NHS, public health and public finances, maintain our food and farming standards, prevent further downward pressure on workers' rights and digital rights, and maintain any commitment to action on the climate emergency, the answer is clear; we must say no to a trade deal with President Trump.
We must demand trade democracy. Trade deals affect every aspect of our lives. They must be negotiated and approved in line with the highest democratic standards of accountability and transparency.
The UK government has made no commitment at all to transparency, scrutiny, or to parliamentary votes of debates on this deal. We are left to rely on leaked documents to find out how our rights are being traded away. Even our elected representatives are all but locked out of decision-making on issues that affect us all.
[1] P 20-21, UK-US Trade and Investment Working Group, 24-25 July 2017, Full Readout