The Energy Charter Treaty - a climate threat.
This resource was published on
| Resources
Parliamentary briefing on the ongoing threat of the the Energy Charter Treaty to climate justice.
Image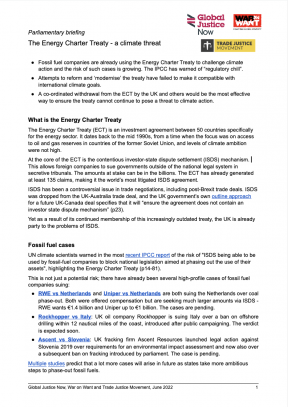 Fossil fuel companies are already using the Energy Charter Treaty to challenge climate action and the risk of such cases is growing. The IPCC has warned of "regulatory chill".
Attempts to reform and 'modernise' the treaty have failed to make it compatible with international climate goals.
A co-ordinated withdrawal from the ECT by the UK and others would be the most effective way to ensure the treaty cannot continue to pose a threat to climate action.