Resource
Up Front: The Crisis of Inequality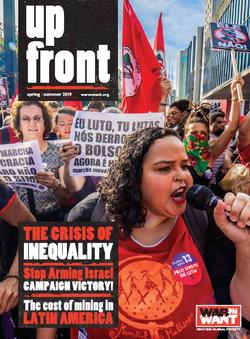 War on Want has always believed that poverty is political: a result of decisions made by powerful governments, corporations, and elites to maintain the status quo for their own benefit. In this edition of Up Front we highlight the crisis of inequality we are currently facing. With the concentration of power in the hands of such a small few, we know the global economic system is broken. But the crisis of inequality can and will be overcome. Not by the billionaires at Davos or by politicians demanding fences and walls, but by ordinary people of conscience around the globe.
In our spring and summer edition of 
Up Front
, read about our recent Stop Arming Israel campaign victory, and about the launch of our new campaign to stop corrupt corporate courts. We highlight the devastating impact of mining in Latin America, as well as a recent victory for land rights in South Africa.
Not yet a member of War on Want?
Join us here.

Up Front Spring 2019.pdf
Join the conversation
Azura Group in Morocco fired Abdellah Beibeh after 23 years. He is the general secretary of his union branch. This… https://t.co/pABfB9bkQa
—
55 min 58 sec ago
In the fifth richest economy in the world, years of austerity, poverty wages and welfare cuts have left the poorest… https://t.co/7LqXTlHrzS
—
4 hours 20 min ago
The movement of Indian farmers has vowed to continue their protests. They're organised and ready with rations for m… https://t.co/Zw3Xqr1OaH
—
5 hours 3 min ago