Israeli Government's attacks on six Palestinian civil society groups must be resisted
This resource was published on
| Resources
We join 15 UK-based NGOs working to support the Palestinian people in condemning the Israeli Government's shocking designation of six Palestinian civil society groups - including our partner Addameer - as 'terrorist organisations.' 
Image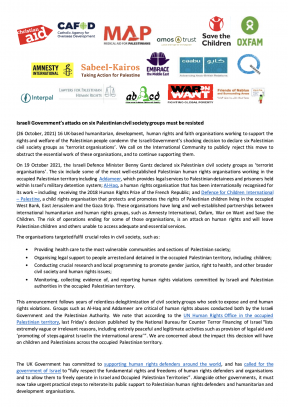 On 19 October  2021,  the  Israeli Defence  Minister  Benny  Gantz declared  six Palestinian  civil  society groups as 'terrorist organisations'. The six  include  some  of  the most well-established  Palestinian human rights organisations working  in  the occupied Palestinian territory including Addameer, which provides legal services to Palestinian detainees and prisoners held within Israel's military detention system;Al-Haq, a human rights organisation that has been internationally  recognised for its work – including  receiving the 2018 Human Rights Prize of the French  Republic; and Defence for Children International–Palestine, a child  rights organisation that protects and promotes the rights of Palestinian children living in the occupied West Bank, East Jerusalem and the Gaza Strip. 
These organisations have long and  well-established partnerships between international  humanitarian  and human  rights groups, such as Amnesty International, Oxfam, War on Want and Save the Children. The risk of operations  ending  for  some  of  those  organisations, is  an  attack on human  rights and will leave Palestinian children and others unable to access adequate and essential services. 
Download the full statement below.