Israeli spyware is threatening our rights and freedoms
This resource was published on
| Resources
What is spyware?
Spyware exploits design flaws (called zero-day loopholes — security flaws unknown to developers) in phones and computers to spy on ordinary people — turning any smartphone into a bugging device by activating the microphone and camera remotely, reading messages, history, emails, and social media, and even writing and creating files which appear to have been created by the phone's owner. Spyware leaves no trace on hacked devices.
Private companies are selling this military technology to governments, police forces, intelligence units and possibly to non-government organisations such as corporations. In recent years, spyware has been used against human rights activists, journalists and lawyers — to silence critical voices, destroy opposition parties and even to orchestrate kidnappings, torture and assassinations of individuals. Evidence of spyware was found in the attempt to sabotage the investigation into the disappearance of 43 students in Mexico and the killing of the journalist Jamal Khashoggi.
After Amnesty International exposed that over 50,000 phone numbers were submitted to the Israeli spyware company NSO Group for hacking, computer analyst whistleblower Edward Snowden, among many technology experts, warned that until this technology is banned, it will easily spread and be used to target hundreds of millions of people.
Image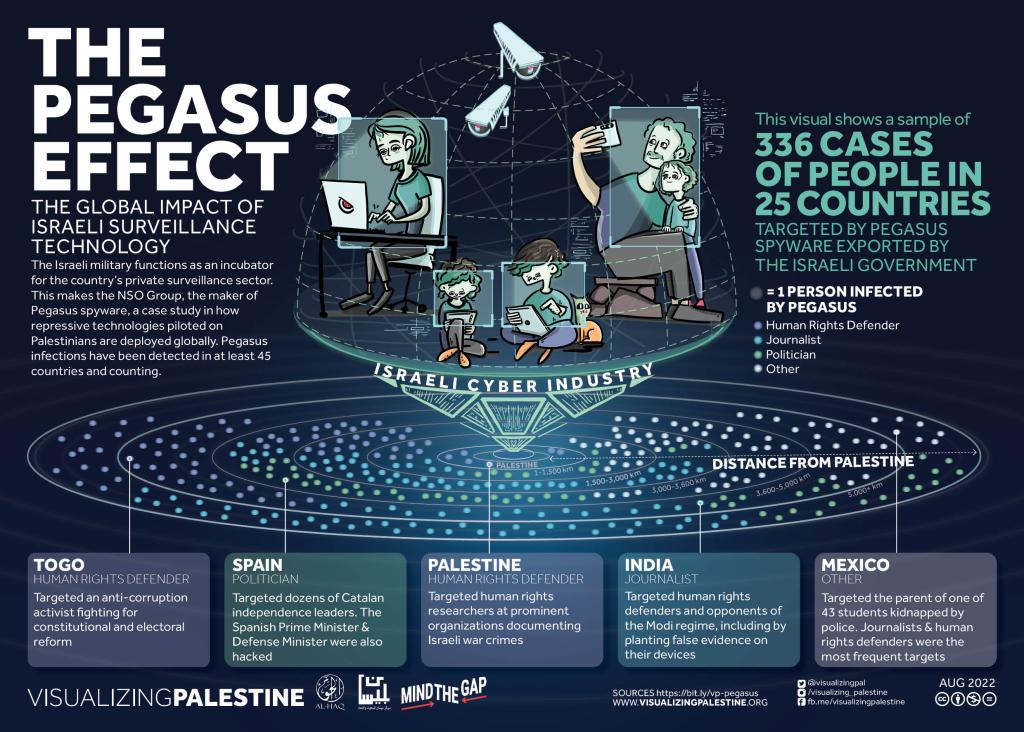 Why is Israel's apartheid regime central to the trade in spyware? 
Israel is home to the headquarters of more spyware companies than any other country in the world, including NICE (the spyware division of NICE was bought by Elbit Systems, Israel's largest arms company), Verint, NSO Group, Black Cube, Candiru, Cytrox, Cellebrite and Intellexa.
These companies all boast that their technology has been taken directly from the Israeli military, and that the founders of these companies are graduates of Israeli intelligence units "8200", "81", and Mossad.
This spyware technology was designed and tested as part of the Israeli occupation and apartheid regime in Palestine. It has been used to blackmail Palestinians into becoming collaborators. It has been used to sabotage the work of Palestinian civil society organisations who protect Palestinian human rights, and to silence attempts to hold Israeli security forces accountable for war crimes and crimes against humanity committed against Palestinians.
Once the technology was successfully tested, Israeli spyware companies were authorised by the Israeli Ministry of Defense to sell the technology for profit. No less than 45 countries, including authoritarian regimes and leaders in Belarus, Brazil, Honduras, Hong Kong, Hungary, Russia, UAE, Uganda and more have bought it. Many countries around the world have access to spyware technology, but the State of Israel is actively selling it for profit.
What can be done?
To end the use of spyware and protect all of our rights to privacy and freedom from persecution, War on Want is part of a global, intersectional movement to educate the public about the dangers of spyware, and demand:
A global ban on the sale and use of spyware
Phone manufacturers are held accountable on the national and international level for zero-day loopholes
Spyware manufacturers are held accountable for the use of their products
Tell the world about the dangers of spyware: