Joint Statement on UN Guiding Principles on Business and Human Rights (UNGPs)
This resource was published on
| Resources
It is time for the UK to demonstrate leadership on business and human rights.
Image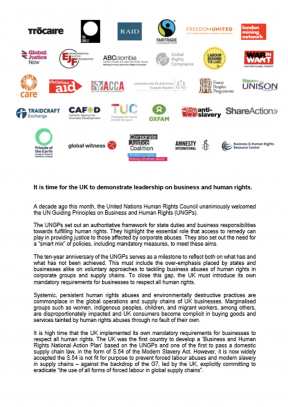 The ten-year anniversary of the UN Guiding Principles on Business and Human Rights (UNGPs) serves as a milestone to reflect both on what has and what has not been achieved. This must include the over-emphasis placed by states and businesses alike on voluntary approaches to tackling business abuses of human rights in corporate groups and supply chains. To close this gap, the UK must introduce its own mandatory requirements for businesses to respect all human rights.
Download the document below to read our full statement.