Tax Justice! Irelands Role In International Context
This resource was published on
| Resources
Image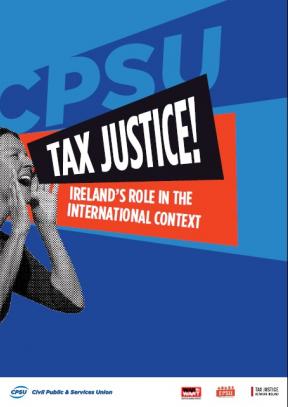 As part of War on Want's and EPSU's three year tax justice training project, a seminar about Ireland's place in the international tax system was held in Dublin hosted by EPSU's affiliate CPSU in December 2015. This report provides a summary contributions to the seminar. 
Eoin Ronayne, General Secretary, Civil Public & Services Union (CPSU) said: "It is clear there needs to be radical reform of the international corporate taxation system if we are to ensure sustainable delivery of quality public services, to guarantee fairness for all citizens, to build bonds of solidarity and co-operation between countries and to protect the right of developing counties to the same principles of fairness, equality and decent work that we seek for ourselves."
Those participating in the seminar agreed to set up and participate in a Public Service Unions Tax Justice Group which will seek to build co-operation between members of different Irish public service trade unions and to liaise with Non-Governmental Organisations with an interest in Tax Justice, many of whom also attended the seminar.
You can read the report below. 
This report has been produced with the assistance of the European Union DCI-NSAED/2011/247. The contents of this publication are the sole responsibility of War on Want and can in no way be taken to reflect the views of the European Union.