The UK's Climate Fair Share Infographic
This resource was published on
| Resources
Image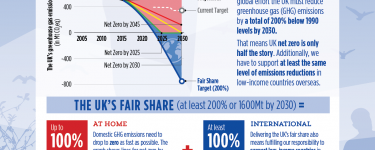 Image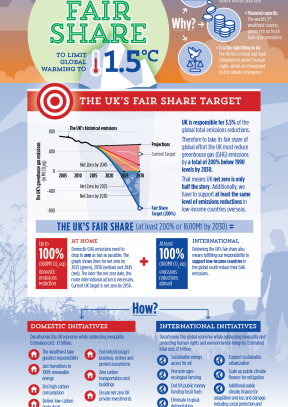 The UK has spent two centuries growing rich from industrialisation driven by fossil fuels, making it the sixth highest emitter of greenhouse gases of all time and the fifth richest economy in the world.
These are not just historical facts that connect through the industrial revolution and our colonial legacy; they are the foundations upon which the UK grew wealthy through a process of often violent resource extraction, of both goods and people's labour. This process continues today, as many countries of the UK's former Empire are deliberately kept poor through UK policies on trade, corporate power and global finance.
Our analysis shows that for the UK to do its fair share of effort to prevent a breach of the critical 1.5°C guardrail, it must aim for a rapid transition to a near-zero goal by 2030, as well as delivering at least the equivalent level of emissions reduction across the Global South through the transfer of finance and technology.
This is not just a moral responsibility, nor is it a charitable gift to the world, it is a legal responsibility enshrined in international law. Our research shows that the climate debt owed by the UK to poorer countries will be at least £1 trillion.