The neocolonial violence of mining: stories of resistance against BHP
29 September 2017 - 11:30am
BHP is the world's biggest mining company. The Anglo-Australian giant's record of forced displacement of indigenous and afro-descendant communities and its catastrophic environmental damage stretches back decades.
Between 14-20 October, community representatives and activists from Colombia and Brazil will be in London to challenge the company at their Annual General Meeting, demanding respect for their rights and seeking justice for the harm caused by BHP's mining operations.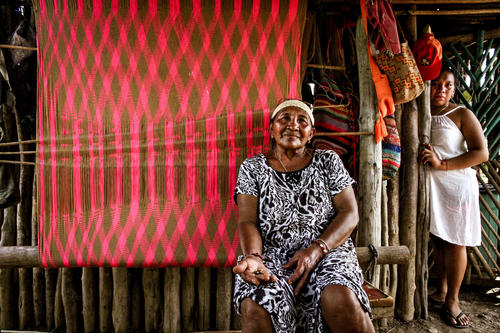 Wayúu healer and her granddaughter displaced by Cerrejon mine Photo by Maria Faciolince 
We've joined forces with London Mining Network, People & Planet and Colombia Solidarity Campaign, for a week of action as communities seek to hold the company to account.
Join us:
1) Saturday, October 14, London – Resistance Continues, all-day workshops (hosted by Plataforma 12 de Octubre) - Unite the Union - 128 Theobald's Road, London, WC1X 8TN
2) Monday, October 16, London – Film screening:The Good Life ,6-9pm (hosted by Native Spirit Film Festival) - Human Rights Consortium, Senate House - Malet St, Bloomsbury, WC1E 7HU  
3) Wednesday, October 17, Manchester  – Public Event, 6-8.30pm – (hosted by ThreePenny Festival)  - (details TBC)
4) Thursday, October 19, London – BHP AGM Solidarity Demonstration, 11am - Queen Elizabeth II Centre, Broad Sanctuary, Westminster, SW1P 3EE
5) Thursday, October 19, London – Mining as Necolonialism: Stories of Resistance, 6-9pm - UCL Institute of Education 20 Bedfford Way, WC1H 0AL
Bios:
From Colombia:
Angelica Ortiz is a Wayúu woman from the Lomguato Reserve and General Secretary of Fuerza de Mujeres Wayúu (Wayúu Women's Force) 
Sutsuin Jiyeyu Wayuu Association - Wayuu Women's Force, SJW-FMW is an organization that raises awareness about the violations of human and ethnic rights in Guajira. They work to denounce the territorial impacts of mega mining projects, including forced displacement and the situation of violation of rights of indigenous women.
Luisa Rodriguez of CINEP – the Centre for Popular Investigation and Education
In the context of territorial conflicts generated by the imposition of the extractivist development model in the region, Luisa and CINEP have developed different actions ranging from education and training, to communication and research, for the exercise of the rights of Wayuu, Afro-descendant and peasant communities in La Guajira. 
They will speak out about the deadly impacts of the colossal open-cast coal mine – Cerrejón. These include the ongoing displacement of communities and the diversion of vital water sources to extract coal which is used to produce our electricity.
From Brazil:
Thiago Alves da Silva, of MAB - the Movement of People Affected by Dams (MAB)
The Movement of People Affected by Dams (MAB) is coalition of local communities impacted by Brazil's thousands of dam projects. It is an autonomous national movement with collective leadership at all levels, and with regional representatives of all sexes, colours, religions, political parties and degrees of education. MAB's story has been one of resistance, struggle and numerous achievements over the last 20 years. They stand for the defence of the rights of affected peoples, of water and energy, and work for the construction of a Popular Project for the country. 
Rodrigo Peret of the Churches and Mining Network
The Churches and Mining Network is an ecumenical space, made up of Christian communities, pastoral teams, religious congregations, theological reflection groups, laity, bishops and pastors who seek to respond to the challenges of impacts and violations of socio-environmental rights caused by mining activities in the territories where we live and work.
They will join us on the eve of the second anniversary of Brazil's worst ever environmental disaster. The Samarco waste tailings dam collapse left 20 people dead and 650km of contaminated river, leading to loss of livelihoods and water sources, which affected millions. Communities are still waiting for answers. 
Click here to view the demands put forward by affected communities in Brazil, Colombia and the US.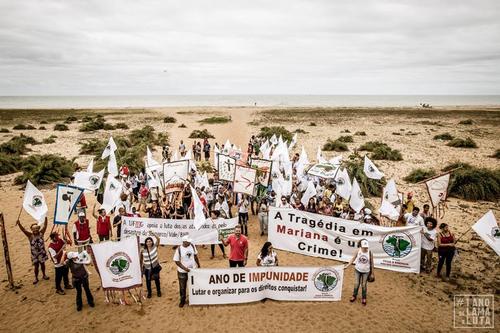 Community mobilisations in Regencia (ES) beach Photo by Leandro Taques (MAB)
Mining as Necolonialism
This story goes back much further: indigenous and Afro-descendant communities around the world have had to bear the brunt of constant attacks on their lives, livelihoods and territories from colonising pursuits and imperial domination in the form of Western governments and multinational corporations' extractive operations. These endeavours extract wealth, labour and precious resources – from south to north - at the expense of those whose lives and environments are deemed expendable in the pursuit of profit.
In the context of the widening inequalities of gender, race and class, made worse by the looming ecological disaster – these struggles of resistance are the frontlines which define how much longer these destructive industries will be allowed to wreak havoc for people and planet. Community struggles tell a story about the intersection between these threats, and we must critically engage with those at the frontlines of these battles to understand the nature of the oppression they face. Doing so will allow us to become immersed in the defence of territory, life and ancestral cultures which is critical to the movement for environmental and social justice.
Join us in London, the heart of the global mining industry, to hear testimonies from people fighting for their livelihoods and culture in Brazil, Colombia and the USA, and plan how we can work together to challenge the company and advert the crises. 
Seb Ordonez Munoz, War on Want's Senior International Programmes Officer (Latin America) said: "BHP's record of catastrophic environmental damage and forced displacement of indigenous and afro-descendant communities stretches back decades. Despite a rhetoric of social responsibility, communities are still being violently evicted from their homes to make way for further expansion of coal mining in Colombia. Meanwhile, communities affected by the Samarco disaster in Brazil still have no certainty at all about their future.
Corporations like BHP are at the heart of the fossil fuel industry, unscathed and unaccountable. Meanwhile, at a global moment of mega-storms, record temperatures and droughts, people living in affected communities are on the frontline of a planetary struggle for all our futures. But in such an unequal world it is they, the poor and indigenous people, who bear the brunt of the fallout, both of fossil fuel extraction and the catastrophic global warming it's unleashing."
Voices of Resistance from Brazil 
Barra Longa, a town of about 6000 people situated 70km away from Mariana, was one of the first towns to be impacted by the deadly tidal wave unleashed after the catastrophic failure of the Fundao tailings dam. The mud reached the town 22 hours after the dam collapsed, covering large areas of Barra Longa. Two years on, the psychological trauma left by the disaster is made worse by the constant noise, the sleepless nights and the respiratory illnesses affecting communities daily: 
"I see today that people are sad. Sad because they are not living in their own houses; they do not live their old neighbourhood; they have lost their living space and do not even see a deadline for the start of a solution. People are sick and discouraged. There comes the weeping, the sadness, the depression." - Magaly Lanna, retired teacher, affected person in Barra Longa, Brazil
"When we looked down from this high point, the destruction that the mud had caused was very distressing. It was devastating, this mud. It happened at night, so we could not see much to start with, but the noise that came and kept coming, taking everything. It was terrible. And we knew that we had friends, our neighbours, who were down there." - Gracinha, from Mutirão (the upper part of the community of Gesteira) near Barra Longa
"We are dispersed, my son, not knowing when we will return or even if we will return. I get sick, you see, my son. I've been to the hospital several times. I do not have anywhere to receive my children and grandchildren, my pots got lost, everything that I built in so many years of struggle and work. I do not know if I'll be back in time." - Maria Geralda Bento, 78 years old, an affected person in Gesteira (near Barra Longa) who is waiting for resettlement for which there is no agreed date to start.
"Who will pay for the moral damage; of our crying, of the despair of seeing the mud arrive and engulf our belongings? They want to deny that this is also an aspect of being affected by the disaster." - Maria Aparecida lanna, embroiderer, an affected person from Barra Longa 
Join the conversation
We expect Ian Austin MP to use his new role as trade envoy to call for the immediate suspension of trade with Israe… https://t.co/R11UfibsaG
—
13 hours 48 min ago
The UN's damning statement: "Had there been concrete action to ensure respect for these principles, and for interna… https://t.co/tnyIq89M0U
—
15 hours 34 min ago