Celebrating our work with trade unions
This article was published on
| News and analysis
Image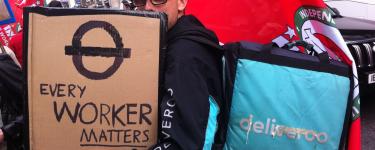 War on Want has always stood in solidarity with workers around the world, who face intimidation and retaliation for organising into trade unions.
Unions have been central to War on Want's work throughout our history because they are critical in the fight against global poverty. All around the world, they bring workers together to achieve things that they would be unable to achieve on their own. That's why we're proud to support HeartUnions week. Throughout 12–18 February, activity across the UK will highlight the good work unions do every day to give people a voice at work. 
Read our 10 Reasons Trade Unions are Important here.
Below we celebrate some of our work with trade unions tackling poverty and human rights in the UK and beyond. 
The battle to End Precarious Contracts
Rising insecurity at work has been a critical issue over the last year. War on Want's Stand With Migrant Workers: End Precarious Contracts campaign has been out in the streets and pushing the debate forward.
We've highlighted how outsourcing and precarious contracts are both a cause and an effect of discrimination in the UK's labour market. They are an effect of discrimination because black, migrant and women workers are more likely to be outsourced and put on precarious contracts. They are a cause because when you are on a precarious contract the constant threat of losing future work makes challenging your employment conditions even harder. 
As the issues of insecurity, the gig economy and bogus self employment has risen up the agenda, the government were pushed to respond. In time honoured tradition, they set up an inquiry headed by Matthew Taylor.
Yet, whilst many tried to claim that insecurity was a modern form of employment, caused by technology and the rise of the 'gig economy', War on Want's campaign has been clear that there's nothing modern about exploitation.
The Taylor Review's recommendations failed to address the power imbalance between employers and workers on precarious contracts. Even if the recommendations are implemented, workers would continue to live under the constant fear of losing the hours they need to survive. The government's response to the Taylor Review similarly failed to get to the crux of the matter.
Whilst the government's claims to be addressing the rise of precarious contracts turned to dust, precarious workers – many of them migrant workers – have gone on the march. They have been organising together and winning victories against outsourcing and precarious contracts.
When the government fails to adequately legislate against precarious contracts, it becomes inevitable that workers will respond by organising together and taking collective action. The time when we end precarious contracts is coming closer. 
Sports Direct Shame
War on Want campaigned with Unite Community to fight against the idea that low pay and insecure zero-hour contracts should be the norm for workers at the Shirebrook warehouse, Derbyshire. We stood with Unite Community to demand Sports Direct employs all workers on fixed-hour permanent contracts, and that the company pays a living wage and ends it's appalling work practices.
As a result of the campaign, thousands of workers at Sports Direct's Shirebrook warehouse in Derbyshire received back pay totalling an estimated £1 million for non-payment of the minimum wage. This followed a public admission by CEO Mike Ashley that his workers were not even being paid the minimum wage.
Uniqlo campaign
In January 2017, Fast Retailing, parent company of fashion giant UNIQLO, bowed to public pressure and announced that it would make its "core supplier" factories public. This followed War on Want and its partner SACOM's campaign targeted at UK high street fashion brands and specifically UNIQLO.
This was a significant victory for garment workers who had struggled against the violations that were committed against them by Fast Retailing. The sustained campaign against the fashion brand brought about change for workers. Now workers in the supply chain can track the conditions of workers across the supply chain, organise collectively and build a stronger movement of workers in the region.
Stand With Migrant Workers
Migrant and precarious workers are winning Britain a pay rise. They are organising and leading the fight to tackle precarious contracts, outsourcing and privatisation – the real drivers of low pay and insecurity at work. Despite the stigma that migrant workers face by a media that too often blames them for low pay and insecurity at work, they are standing up for workers' rights, and they are winning.
In the wake of the EU Referendum, the call to 'control our borders' risks being used not only to restrict freedom of movement, but also to weaken the rights of migrant workers. We must stand for justice.
For migrant workers on precarious contracts, uncertainty about their future in the UK is compounded by a lack of job security and an uphill struggle to challenge workplace racism – racism which has been spurred on by the referendum result and the campaign that preceded it. Only by protecting the social and labour rights of all workers can we stop a race to the bottom that threatens job security, decent pay and workers' rights. In fact, migrant workers and those on precarious contracts are leading the fight against exploitation in the UK.
War on Want is campaigning for workers' rights, especially the rights of migrant workers, to prevent a race to the bottom that would harm all workers. We're also working to support the migrant workers who are fighting for the rights of everyone.
McStrike
On 4 September last year, McDonald's workers made history when they went on strike for the first time in the UK. They joined fast-food workers around the world who are fighting against poverty wages, precarious contracts and for their right to join a union be respected.They are winning. Earlier this year, McDonald's gave their workers the largest pay rise in a decade, but they still won't recognise the workers' union, the Bakers Food and Allied Workers Union (BFAWU)!
War on Want has been working with the #McStrike campaign to support these brave workers as they stand up for their rights.
War on Want is proud to be part of the international labour movement, to stand shoulder to shoulder with working people wherever they are. The fight for workers' rights has been a top priority throughout our history.