We will never stop fighting for workers' rights
This article was published on
| News and analysis
Image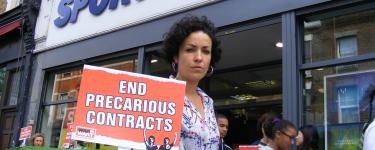 International Workers' Day is a day for us to celebrate the achievements that generations of working people have won through the power of trade unions. Decent work and a living wage are not only basic rights, but a key route out of poverty. Through organising, the collective voice of workers has won rights and decent work for millions of people.

War on Want is proud to stand with every worker throughout the world, and supports workers who are fighting against exploitation and discrimination, and for their right to decent working conditions.
At a time when workers require more protection and representation than ever before, trade unions play a critical role in safeguarding workers' rights.
In the UK, trade unions have given us the weekend, the eight-hour day, paid holidays, paid sick leave, paid maternity leave and pretty much every other working right we now enjoy. Globally trade unions are fighting for the rights of those working in some of the most exploitative conditions, such as the garment industry supply chains.
The challenges of precarious and insecure work needs the collective strength and commitment of the labour movement, to ensure that those hard-won rights will be there for future generations. Poverty wages, insecure contracts and lack of unions are not just human rights violations, they are a public health risk. Low paid workers are the least likely to receive company sick pay and those on the lowest wages do not even qualify for statutory sick pay.
The impact of Covid-19 on workers
The Covid-19 pandemic has changed the economic landscape, and the very nature of work is changing too. It has exacerbated an already unequal relationship between employers and labour, with workers on insecure contracts recorded as being twice as likely to die from Covid-19[1] in the UK.
Black Workers, many of whom work on the front-line of social care have had greater exposure to the virus. And women, already disproportionately employed in low paid industries, have too often been left with no choice but to take unpaid leave to cover childcare. Meanwhile, young workers are more likely to have been made redundant.
The pandemic has exposed and aggravated the injustices that already existed in the world of work. Big businesses, have made huge profits whilst passing on the costs of the pandemic to workers:
In South and South East Asia, the pandemic has left garment workers owed somewhere between $3.2 and $5.8 billion in unpaid wages and legally owed compensation when high street brands suddenly cancelled orders or demanded huge discounts, forcing factories to close, or to operate with reduced numbers of workers.
US McDonald's workers went on strike for better safety protection.
In the UK, one in ten workers have been threatened with Fire and Rehire, which means they can be sacked if they don't accept pay cuts and worse conditions. This is only likely to get worse once the furlough scheme ends.
Informal workers who depend on street stalls have faced severe lockdown restrictions.
In the global South the widespread lack of social security has meant workers have no safety net to rely on. In India, farmers and workers unions have been protesting since November against new agriculture laws that represent a corporate takeover of the food system, handing power to big business and threatening the livelihoods of millions.
As the world faces multiple crises of inequality, injustice and climate change, protecting workers' rights is a key pillar of the systemic transformation needed to meet environmental limits justly. The economic recovery must be used to address these systemic injustices.
Over the last 13 months, what has been laid bare is that the continued push for profit and economic growth at any cost cannot continue once this pandemic is behind us. There can be no going back to 'business as usual'.
As we emerge from the grasp of the pandemic, there is a real opportunity to work out what a just transition to a greener economy can look like for workers everywhere, with no communities left behind. If we are to shift power back to workers, then workers must be at the very centre of this recovery with jobs that offer good pay, safe workplaces, union recognition and social protection.
Whether it is young workers on strike for the first time as part of the McStrike, or War on Want's trade union partner in Sri Lanka fighting for recognition and engagement for their members in garment factories producing clothes for the UK High Street. War on Want stands with them all on 1 May, International Workers' Day.