Fast Food Shutdown FFS410
This article was published on
| News and analysis
Image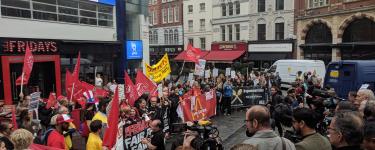 On 4 October 2018 there was an historic co-ordinated strike of hospitality workers.
It was named "Fast Food Shutdown 4-10" (#FFS410). Workers in hospitality and food couriers in the gig economy took action across the UK to demand an end to poverty wages and for their right to a union to be respected.
Uber Eats and Deliveroo couriers join BFAWU and Unite hospitality workers
Initially, two unions – the Bakers Food and Allied Workers Union (BFAWU) and Unite – called co-ordinated strikes of workers at Wetherspoons, McDonald's and TGI Fridays. Following the announcement, the Industrial Workers of the World (IWW) Couriers Network called a strike of Uber Eats and Deliveroo couriers in Brighton, Bristol, Cardiff, Glasgow, London, Newcastle, Plymouth and Southampton. This call out was then supported by IWGB (Independent Workers of Great Britain) and GMB.
"Your fight is our fight'" McStriker Lauren McCourt #Ffs410 #SpoonStrike #McStrike #AllEyesOnTGIs pic.twitter.com/QR1HuVduTi

— The McStrike! (@FastfoodRights) September 25, 2018
Day of Action: new watershed for precarious workers taking action
With five unions and a day of action across the country, supported by War on Want, 4th October was to mark a new watershed in precarious workers taking action. It built on the first McStrike in September 2017 when workers at two McDonald's branches went on strike, and on 1st May (international workers' day) when five McDonald's branches went on strike. This time, Wetherspoons and TGI Fridays workers joined the action as well.
Midnight walkout
A dramatic midnight walk-out in Brighton kicked off a national day of action against low wages, precarious conditions and the lack of union recognition. Workers walked out to be greeted by their colleagues amidst chants of "We will win".
#Breaking Wetherspoons workers have walked out on STRIKE! TGI Fridays, McDonald's, Uber Eats and Deliveroo couriers are on strike today too. Pls RT this video & show solidarity with workers demanding £10/hr & a union. #FFS410 #SpoonStrike #McStrike #AllEyesOnTGIs #FastFoodGlobal pic.twitter.com/xQtUXne1nw

— War on Want (@WarOnWant) October 4, 2018
Morning picket in Brixton
A morning picket outside McDonald's in Brixton gained local and international support. Fast food workers from four continents had come to London to show solidarity and they demonstrated the international nature of workers organising against these highly profitable multinational companies. Demonstrations took place around the world on the same day as well as US fast food workers who were striking at the same time in the "Fight for $15".
Brixton 9am @RwUnite @unitetheunion @IanBFAWU @BFAWUGroup @BFAWUyouth @Ronniebfawu @FastfoodRights @MFUnite @pplsassembly @UCL_UCU @LGSMpride @lgsmigrants @WarOnWant @OwenEspley @UKLabour @MFUnite @fightfor15 #FightFor15 #FFS410 @IWW_Couriers #McStrike #SpoonStrike #AllEyesOnTGIs pic.twitter.com/AcHIVEUsM3

— Robert Byford (@RobertByford1) October 5, 2018
Rally in Leicester Square
At 11am, striking workers from McDonald's TGI Fridays and Wetherspoons came together for a rally in Leicester Square, the heart of the UK's hospitality industry.
Frances O'Grady and John McDonnell spoke alongside workers taking industrial action. John expressed the "100% support" of the Labour Party.
I'm so proud of the workers today who are taking back power and standing up to giant corporations. We're fighting back, we're organising and we'll win. #FFS410 #McStrike pic.twitter.com/w5uqzoAmL8

— Frances O'Grady (@FrancesOGrady) October 4, 2018
Women workers from each employer addressed the crowd and were joined by an Uber Eats courier representing the IWW Couriers Network strike of delivery riders.
War on Want's Asad Rehman also spoke.
"There's power in the union!" War on Want ED @chilledasad100 speaks in solidarity at the #FFS410 rally in Leicester Square! #McStrike #SpoonStrike #AllEyesOnTGIs #UberEatsStrike #FastFoodGlobal pic.twitter.com/ygEErZdw4L

— War on Want (@WarOnWant) October 4, 2018
Uber's UK HQ occupied
Uber's UK headquarters in Aldgate, London, received a surprise visit at lunch time as Uber Eats couriers, Uber drivers, and supporters from IWGB and IWW occupied their main office with chants including "Uber, Uber you can't hide, we can see your greedy side" and "Five pound per drop or the work will stop".
Flashmob now at ubereats offices!! @IWGBunion @United_PHD @IWW_Couriers #FFS410 #McStrike #AllEyesOnTGIs #SpoonStrike pic.twitter.com/uSMTwi9psi

— IWGB (@IWGBunion) October 4, 2018
Uber Eats and Deliveroo strikes across the country
In the evening, the strikes of Uber Eats and Deliveroo riders in cities across the UK came to the fore. Local trade unionists, activists, Momentum groups and others came out to support striking couriers and show solidarity with striking fast food workers. 
Cardiff
The @IWWCymru Cycle Network Cymru leading the rally demanding £5 per drop & £1 per mile.@cardiffucu there to support!#mcstrike #FFS410 #SpoonsStrike #AllEyesonTGIs@IWGBunion @IWW_Couriers @bfawu1 @RwUnite @walestuc pic.twitter.com/o7Z2F6LsZM

— Cardiff Uni UCU (@CardiffUCU) October 4, 2018
Brighton rallies for Wetherspoons workers
Wetherspoons workers in Brighton held a rally with local MP Caroline Lucas and a musician who had written a song about them.
Solidarity actions across the country
Across the country, groups took action to demonstrate solidarity with low paid workers and demand change. 
Sheffield
#Sheffield shows #Solidarity with striking workers in fast food & hospitality industry. Employees deserve secure contracts & proper living wage. #McStrike #SpoonsStrike #SpoonStrike #FFS410 @SheffieldStar @MomentumSheff pic.twitter.com/j0Y0MsKYCd

— Sheff Hallam Labour (@ShefHallamLab) October 4, 2018
Chester
Unite, Momentum and Trades Council outside Wetherspoons in Chester earlier today showing solidarity for hospitality workers. Picture thanks to John Fetherston #AllEyesOnTgis #Spoonstrike #Mcstrike #FFS410 pic.twitter.com/tJKq15NGUd

— Unite North West (@Unite_NorthWest) October 4, 2018
New generation of workers realise their power
As striking workers' words hit the media throughout the day, workers who recognised the conditions they described as their own got in touch with the unions involved to say they too were ready to join the fight. With widespread public support and media attention helping to build workers' confidence, the third and largest McStrike demonstrated that a new generation of workers are starting to realise the power they have when they get organised and take action.
Couldn't agree more with Wetherspoons worker Chris Hepple here: "I knew workers had never won better living standards, conditions and power by relying on the generosity of any government or these companies" #SpoonStrike #McStrike #UberEatsStrike #FFS410 https://t.co/8DmLxBMr7z

— Len McCluskey (@LenMcCluskey) October 4, 2018