International Women's Day 2016: Fighting for justice
This article was published on
| News and analysis
Image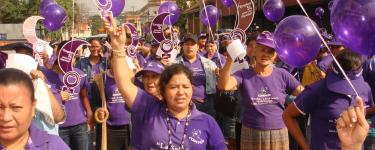 International Women's Day 2016 comes only days after the brutal murder of Berta Cáceres, the Honduran indigenous and environmental rights campaigner. In this article, War on Want's Jackie Simpkins explains how the fight for women's rights is a vital part of the war on global poverty and inequality.
Women make up roughly three quarters of the world's poor. Despite often having to perform the duties of both breadwinner and head of household, women earn a mere tenth of global income. Subjected to the most precarious jobs in cities and rural areas, women are also far more likely than men to be unemployed.
Whether on farms, plantations or in factories, women are more likely to suffer from poverty wages, as well as deplorable working conditions and physical abuse on the job. The global economic crisis has taken a particularly harsh toll on women, many millions of whom have been plunged into unemployment.
Here in the UK, the government has implemented some of the most draconian cuts to public services that we have ever seen, and with the promise of more to come in the forthcoming budget. We are witnessing the dismantling of the welfare state that was supposed to look after us from the cradle to the grave.
And we know that it is the poor, the vulnerable and women that will continue to be disproportionately affected.
Remember that it was just five years ago that the then universities minister David Willetts, said feminism was probably the 'single biggest factor' for the lack of social mobility in Britain, because women who would otherwise have been housewives had taken university places and well-paid jobs that could have gone to ambitious working-class men.
What we are seeing here in the UK is a pattern of institutional discrimination that has been prevalent in the developing world for many, many years.
War on Want believes that the fight for women's rights is a vital part of the war on global poverty. In the world's poorest countries, War on Want and its partners are challenging the structures and institutions that have driven millions of women into poverty. Led by factory workers, small farmers and political activists, the women's rights movement is waging a global struggle against inequality.
Although the gender gap in wages is a global phenomenon, the differences are particularly acute in the developing world. In export-based economies like Bangladesh, Honduras and Sri Lanka, women account for the bulk of the workforce in garment factories, including those producing for the UK High Street. In these factories, women earn far less than their male counterparts, who are employed more often as supervisors or floor managers.
In addition to earning poverty wages, female factory workers are often exposed to physical and verbal abuse. For example, a survey of the Bangladeshi garment sector carried out by War on Want partner, the National Garment Workers' Federation; found that 85% of all women workers reported having been abused on the job.
Women also comprise the majority of workers on plantations producing for export to the UK and other Western countries. To keep salaries low, many plantations hire women workers on temporary or seasonal contracts. By being denied permanent status, many farm workers are unable to access vital benefits like maternity leave and sick pay.
The global economic meltdown and free trade policies have decimated poor communities worldwide, casting millions of women into poverty.
Denied education and training that often is available to men only, women are hindered from finding meaningful, well-paid employment in a volatile job market, often working for large multinational corporations. It is down to us to make sure that those corporations that source goods from overseas are regulated and held to account for abuses in their supply chains.
Women are also bearing the brunt of the fallout from the global food crisis, which has seen the price of food skyrocket to record levels. Shockingly, even though they grow most of the food consumed globally, women make up 60% of the one billion people in the world who live in hunger - the by-product of women's lack of control over resources, most crucially land.
In Bangladesh, the National Garment Workers' Federation (NGWF) is leading the struggle for a living wage for the two million women who work in the country's garment factories. No-one needs reminding that of the 1200 plus workers who were killed in the Rana Plaza factory building collapse in Dhaka on 24 April three years ago, the majority were young women who had moved to Dhaka to earn money to send home to their families.
International Women's Day is a day for change. And you know, we women can be quite scary when we get together!  Women have had to fight for everything they have won and women are organising across the world - and where they organize they win!!
Take War on Want partner Codemuh in Honduras for example.
Honduras is the largest textile manufacturer in the Caribbean basin and the third largest exporter to the US after China and Mexico. It has 24 Export Processing Zones (EPZs) employing over 133,000 workers, 75% of whom are women. Many leading clothing brands from Gap to Fruit of the Loom source their clothes from these zones.
Codemuh (the Honduran Women's Collective in Spanish), is a feminist, women-led grassroots organisation that has been fighting for women worker's rights and their empowerment for over 20 years. Codemuh is run by women seeking change in society that allows them to fully realise their potential, free from exclusion and discrimination.
These women are equipped, through training, with the skills and self-esteem to become labour rights promoters reaching out to workers on factory floors and in their local communities.
Codemuh also provides legal and medical advice to workers suffering occupational disease and empowers them to speak out and challenge the abuse of labour rights by factory owners and the complicity of the government.
War on Want also works in tandem with other grassroots organisations fighting for women's rights in Colombia, Kenya, Palestine and Sri Lanka.
Over one hundred years ago, across the UK, the Suffragettes were campaigning for Votes for Women. A quote from Christabel Pankhurst is probably as fitting today as it was then and is still the philosophy of so many courageous women around the world who still won't take no for an answer:
"Remember the dignity of your womanhood. Do not appeal, do not beg, do not grovel. Take courage, join hands, stand besides us, fight with us."
We should celebrate the generations of women who secured vital rights, as well as supporting their successors across the globe still battling against oppression and violence in the 21st Century.