'Judge, Jury, and Occupier' report: questions & answers
This article was published on
| News and analysis
Image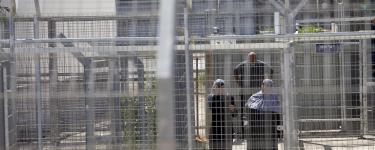 1. Why focus on Israel's military courts?
The military court system in the West Bank is a central part of Israel's illegal occupation. Military courts uphold and perpetuate the occupation by enforcing repressive laws imposed on the Palestinian people to suppress dissent, quash resistance to occupation, and to deepen military rule.
War on Want has long campaigned for the rights of the Palestinian people as part of our work to promote human rights. Our Palestinian partners identified the need to draw attention to the military court system, as a cornerstone of Israel's occupation and the violation of their rights.
The 'Judge, Jury and Occupier' report follows years of War on Want research and campaigning on Israel's system of arrest and detention. We played a leading role in a civil society campaign which successfully pressured private security company G4S to sell off its Israeli subsidiary, which was complicit in human rights abuses through its provision of services to Israeli prisons.
Building on this victory, and as our Palestinian partners have made clear, there is a need to examine the bigger picture: Israel's overarching system of arrest, detention and imprisonment, the grave violations of international law involved, and the military court system's role in upholding an illegal occupation.
2. War on Want says that Israeli military law rules over Palestinians in the West Bank. But what about the Palestinian Authority and Palestinian law?
There are two legal systems operating in parallel for Palestinians living in the occupied West Bank: Palestinian law and Israeli military law, the latter of which is codified through thousands of military orders.
Palestinian law came about through the Oslo Accords in the early 1990s, along with the establishment of the Palestinian Authority. Palestinian law is enforced by the Palestinian security forces. Palestinian courts hear cases relating to civil and criminal matters within Palestinian society in the West Bank.
Israeli military orders are issued by the Israeli military and they take precedence over Palestinian law. Israeli military orders enforce Israel's illegal occupation, and are not for the benefit of Palestinian society. Israel's military orders serve as an apparatus of repression, as documented and articulated by Palestinian, Israeli, and international human rights experts, and illustrated in our 'Judge, Jury, and Occupier' report.
Israelis living in illegal settlements in the West Bank are not governed by either Palestinian law or Israeli military orders.  Israeli settlers are instead governed by Israeli civil law, a different legal system entirely. Subjecting people in the same area to different legal systems based on their identity is an act of discrimination, and one element of Israel's apartheid regime of control.
Whilst the Palestinian Authority nominally has 'security' control over limited areas of the West Bank, Israel maintains military control over the entire area. The power of Israeli military rule to override Palestinian law in the West Bank is a prime example of how the West Bank is still occupied, despite the presence of the Palestinian Authority.
3. If you want the military courts abolished, what system of justice should replace them?
The use of military courts to try civilians is not justifiable, morally or legally under international law. We do not believe that justice could be served through piecemeal reforms, or added safeguards, as even if due process procedures were put in place, Israel's military courts would still operate as the judicial arm of an illegal occupation, with the sole purpose of enforcing military orders that repress Palestinians. War on Want wants to see the end of Israel's illegal occupation and the abolition of the military courts along with it.
An end to the occupation is one of the key pre-conditions for Palestinian self-determination, a right enshrined in international law which has been recognised and reaffirmed by the UK government for years. It is for Palestinians to determine what their justice system will look like, in line with international law, when they achieve self-determination.
4. What is War on Want's view on the Palestinian Authority holding Palestinians prisoner and violating their rights?
War on Want opposes the violation of prisoners' rights in every circumstance, whether Palestinian prisoners abused by Israeli or Palestinian authorities, or British prisoners abused by British authorities. Human rights are universal, must be respected universally, and anyone violating human rights must be held to account.
Whilst we oppose any violation of all prisoners' rights, the focus of the 'Judge, Jury, and Occupier' report is on arrest and detention as a part of Israel's illegal military occupation.
Our partner organisation Addameer monitors violations and advocates for the rights of prisoners held in Palestinian prisons by the Palestinian Authority.
5. Doesn't Israel have a right to arrest people to defend itself from terrorism?
The implementation of military law in the West Bank, criminalising most forms of Palestinian political expression and activity, was one of the first acts of Israel's illegal occupation in 1967.  
Terrorism is a charge that is used extremely broadly to suppress Palestinians' political activity, especially opposition to occupation and apartheid. Israel has banned over 400 Palestinian organisations through military orders, which are unilaterally decreed by the military commander, and defines them as terror groups. All of the major Palestinian political parties are technically banned, as are hundreds of student organisations, cultural and other civic associations.
As the 'Judge, Jury, and Occupier' report shows, Israel's military court system does not allow for a fair judiciary process. Palestinians are convicted and branded 'terrorists' by the judgement of these military courts, without a fair trial, and in the majority of cases, without a full trial at all.
Claims that this system is simply self-defence, or a response to terrorism, obscure the fact that the system was imposed on the Palestinian civilian population as one of the first steps of a belligerent occupation.