Make Amazon Pay
This article was published on
| News and analysis
Image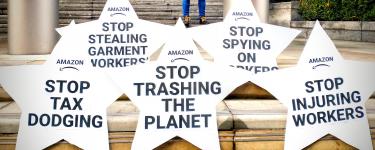 Amazon is amassing power in ways that threaten a future of inequality, poverty and irreversible climate change.

The pandemic has accelerated Amazon's growth, whilst the workers who make, package and deliver its products face poverty, unsafe conditions and ever greater surveillance.
Warehouse Work
As Amazon's domination of online sales grows and grows, the impact is being felt in the loss of brick and mortar retail jobs. They have been replaced by dangerous and precarious warehouse and delivery jobs. Amazon workers in these roles across the world tell similar stories of constant electronic surveillance and ever increasing performance targets set by an unaccountable algorithm.
They face greater risks to health and safety, proven by the large number of ambulance call outs compared to similar facilities, which the GMB Union highlighted through publicly available data.
A Global Movement
A global movement is coming together to challenge Amazon's growing unaccountable power. Warehouse workers from Alabama to Australia are demanding that Amazon ceases its union-busting tactics and stops treating them like robots. And delivery workers from India to Italy are pressing Amazon to give them regular shifts and decent pay.
War on Want is part of the Make Amazon Pay coalition, which represents over 200 million workers and activists across the planet and is committed to taking action in solidarity with Amazon workers and communities.
Image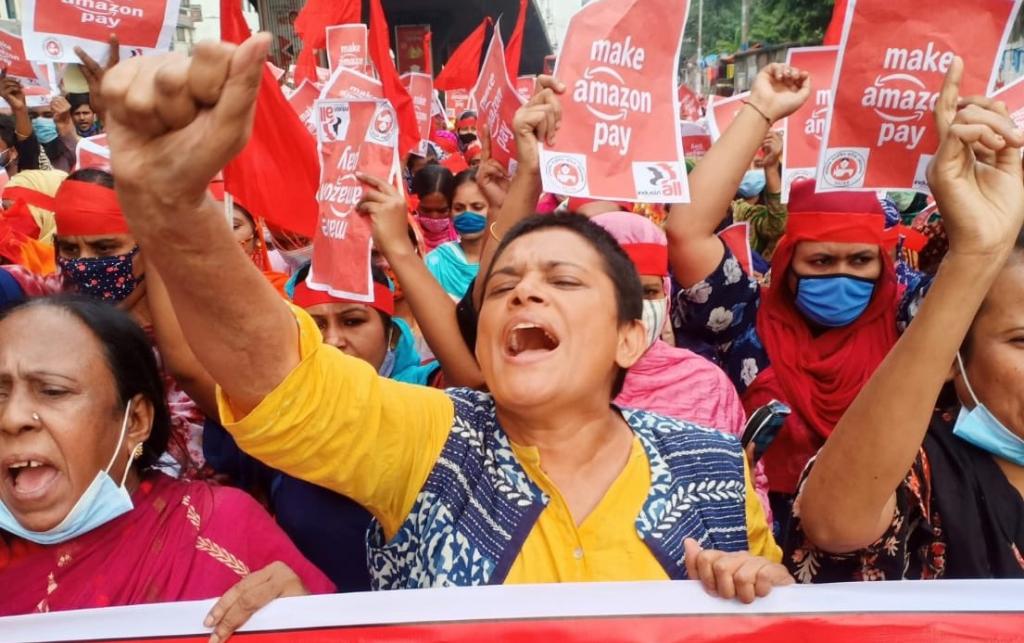 Garment Workers
In May 2021 garment workers in Cambodia and Bangladesh led a global day of action, as Amazon's shareholders met, to demand Amazon pay ALL the workers in its supply chain, from delivery to warehouse to factory.
Garment workers who produce directly for Amazon's private brands endure dire conditions working for this powerful company.  At the HULU factory in Phnom Penh, Cambodia – which supplies Amazon – workers were hoodwinked into resigning so their bosses could avoid £3.6 million pounds in redundancy payments. A month later the factory reopened but at least 500 of the workers were never rehired.
Global Garments a company in Bangladesh, which supplies Amazon, fired all its workers at one of the few garment factories with collective bargaining (the process where unions and management negotiate together over wages, terms and conditions). This is part of a pattern by Azim Group, the parent company of Global Garments, which has gradually closed all five of its unionised factories since 2014.
Digital Surveillance of Workers
In May 2021, workers and trade unionists gave evidence to MEPs (Members of the European Parliament) about Amazon's digital surveillance of workers and activists – a gross infringement on their human right to associate into trade unions. It was even revealed that Amazon uses private detectives to spy on workers.
Concern Beyond Workers' Rights
Concerns about Amazon extend beyond its impact on workers' rights. It is not only the dominant portal for online shopping, but also seeks to dominate other strategic infrastructure in the 21st century market such as cloud services, logistics and distribution. The competitive advantage it gains from its use of big data allows it to squeeze out competitors.
Data Rights and Privacy
The use of computing power to process vast amounts of data raises issues of civil liberties and privacy. In the UK, EU regulations on data protection attempt to provide some protection from overreaching companies abusing big data.
But critically, immigration enforcement is an exception to general rules on data protection. Earlier this year, Amazon's Alexa collaboration with the NHS raised concerns about how personal health data would be adequately protected.
And it was the role of Amazon's web cloud services that caused significant internal rebellion by staff and others in July 2019 and 2018.
People including warehouse and tech workers protested the company's provision of cloud services to the US government's Immigration and Customs Enforcement (ICE) and the Department of Homeland Security, as well as their contractors such as Palantir, who use Amazon's web services to run digital surveillance of undocumented migrants.
This digital surveillance facilitated immigration raids and deportations under Trump's presidency.
Tech Workers
The fact that Amazon tech workers are starting to speak out highlights the shift of new digital platform companies like Amazon with supposedly strong liberal values, towards increasingly powerful companies aligned with the security state.
Workers have organised in Amazon Employees for Climate Justice and held several walk-outs. With key activists asserting that they have been victimised because of their involvement.
Political Power
As well as market power, Amazon's political power is creeping into people's lives as it expands its distribution centres and other physical business sites.
To decide where to locate its US HQ, it ran a competition between different municipalities to see which would be willing to offer tax breaks and other incentives.
In the end – despite offering US$3 billion in incentives – Amazon pulled out of locating a HQ in Long Island City, Queens, following a hard-fought community and union campaign.
In the UK, the GMB union highlighted the 36 public sector contracts worth £660 million that Amazon had been awarded since 2015, whilst in the US campaigners estimate Amazon has benefited from $2.7 billion in public subsidies including tax breaks.
Politicians need to step up
Unless our politicians step up, this company, that fails to pay its fair share of tax and its workers the respect and wages they deserve, will continue to grow and dominate the global economy in the 21st century. It's not the future that workers or the public want.
War on Want has joined with the GMB union to call on UK parliamentarians to launch an inquiry into Amazon's behaviour. War on Want supporters have written to their MPs in the thousands to support this call.
By coming together and building alliances that span the globe we can build the power to tackle multinationals like Amazon.