#MeToo McDonald's week of action
This article was published on
| News and analysis
Image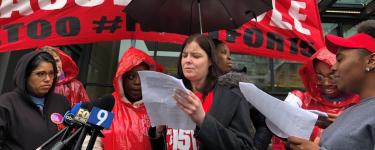 It's been a busy two weeks for McDonald's in the US. The media have described it as a "shitstorm" as unions pressured McDonald's for a full week. War on Want supporters helped to lift up workers' voices and highlight McDonald's sexual harassment problem.
Here's what happened:
On Monday 20 May, US workers announced they were going on strike on Thursday – the day of McDonald's annual shareholder meeting – and that they would be joined by presidential candidates.
On Tuesday 21 May, for the third time in three years, multiple McDonald's workers filed complaints accusing the company of fostering a culture of widespread sexual harassment. They teamed up with the Time's Up Legal Defence Fund and the American Civil Liberties Union. They're taking the momentum of the #MeToo movement – which focused on celebrities suffering sexual harassment – to support low paid workers, mostly women of colour, taking on one of the most powerful multinationals in the world.
Also on Tuesday, a federal prosecutor in Brazil announced an investigation into systemic sexual harassment and racial discrimination in McDonald's restaurants there.
UK McDonald's worker Christine Hayes travelled to the US to speak out about sexual harassment. She joined US workers protesting outside McDonald's HQ.
On Wednesday 22 May, a new report exposed the epidemic of workplace violence at the burger giant's US stores, including shootings, robberies, physical and verbal altercations, and weapon brandishing that result in worker and customer injuries. It pointed the finger at McDonald's, saying that a culture of routine violence is compounded by the company's lack of violence prevention procedures to protect its workers.
On Thursday 23 May, workers at 13 cities across the country went on strike. The company, scared of previous protests, moved its shareholder meeting to an airport hotel in Dallas, Texas. Even there, they were met with protest. Democratic presidential candidates joined workers on picket lines and offered their support across the country.
We can WIN!
In recent months, fast-food workers in the US have seen their efforts to raise wages pay off. They've already pushed lawmakers in four states to adopt a $15 minimum wage so far this year, and they're building support in Congress for a federal bill. Only last week, another state, Connecticut, signed into law a rise in the minimum wage to $15 an hour.
McDonald's workers in the 'Fight for $15 and a union' campaign have changed the terms of the debate on low pay in the US. Now, 22 million workers have seen their wages rise, and 10 million are on their way to earn a living wage of $15 an hour. But the fight is not over – they know that to get respect on the job, you need a union.
Global movement
They join McDonald's workers in the UK organising in the McStrike, as part of a global movement of workers demanding this multinational company respects its workers' rights.
The Fight for $15 shows us that when workers, even marginalised workers, get organised into a union and win the support of the communities around them, they are able to change the terms of the debate. Their bold actions of going on strike show that they have the power to win.