Palestinian political prisoners
This article was published on
| News and analysis
Image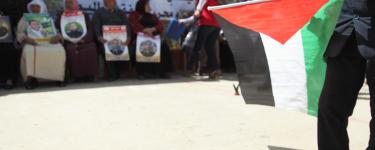 Israel holds thousands of Palestinian men, women and children as political prisoners.
A political prisoner is someone who is arrested and detained because of their identity, beliefs or political activities. In the Palestinian context, political prisoners refer to people detained in relation to the Israeli occupation, as opposed to detainees suspected or convicted of crimes/offences of criminal activity unrelated to the occupation.
Israel's system of arrest and detention is an integral part of Israel's apartheid system, under which Palestinians are governed under a separate set of laws than Israelis. It combines human rights abuses against individuals with a system of discrimination specifically designed to restrict and repress the Palestinian people and their struggle for freedom.
Background
Palestinian political prisoners come from all over Palestine, though the vast majority are from the Israeli occupied West Bank.
Military occupation means that West Bank residents live under Israeli rule but are not afforded the rights and privileges of Israeli citizenship (for example, voting, residency, etc.) Instead of regular civilian laws, they are subject to thousands of Israeli military orders which govern their lives. These laws include prohibitions against political activity, and those who are accused of breaking those laws are arrested and detained.
Israel, like other colonial regimes, has a long history of using arrest and detention as a method to repress political organising by Palestinians. During the first intifada (uprising) in the 1980's, thousands of Palestinians were taken prisoner by Israel for their political activities. These included 'offences' such as organising and participating in protests, taking part in assemblies or vigils, waving flags and other political symbols, or printing and distributing political material.
The prisoner crisis remains today. As of July 2019, Israel is holding 5150 Palestinians as political prisoners, including 460 in administrative detention, 210 children and 38 women and girls.
Arrests and raids
Palestinians can be arrested by the Israeli authorities at any time, taken from their schools, homes, workplaces, at checkpoints or at demonstrations. Some may never know why they have been chosen for arrest. Personal property is often damaged by soldiers in arrest raids.
Arrests usually include physical abuse of the detainee and sometimes of others present at the time. Detainees are blindfolded, handcuffed, and loaded into military vehicles. It's then up to the families to call around and find out which detention centre their family member has being taken to.
Sometimes Israeli soldiers conduct raids to pick up several people at once. This is especially common in villages demonstrating against the Apartheid Wall. Children are often picked up in night time raids after demonstrations. Arrests connected to demonstrations are part of a wider practice of political repression, with the expectation that villages will be less likely to protest if children are targeted as a consequence.
Interrogation, torture and ill-treatment
Palestinian detainees can be interrogated indefinitely and they can be denied access to legal representation for 60 days after arrest. During interrogation, detainees are often subjected to cruel, inhuman or degrading treatment, physical and/or psychological torture. Confessions extracted through such practices are allowed as evidence in military court, as are confessions written in Hebrew and signed by detainees who do not speak or read the language.
Forms of torture and ill treatment used against detainees include: beatings, tying prisoners in "stress positions", interrogation sessions lasting up to 20 consecutive hours, sleep and other sensory deprivation, isolation and solitary confinement, and threats against the lives of relatives. In the past detainees have died in custody as a result of torture.
These practices are in direct contravention of international law. While the Israeli High Court of Justice banned the use of torture during interrogation in 1999, the decision allowed an exemption for "moderate physical pressure", which is widely considered torture.
Military courts
Palestinians arrested from the West Bank and Gaza Strip are tried in Israeli military court where the judge, prosecutor, clerks and even the translators are active-duty soldiers and military personnel. There is no semblance of due process or impartiality in these courts. As a result, Palestinians are compelled to plead guilty to be eligible for plea bargains to limit their sentences. Since they will end up with a record either way, and chances of being exonerated are almost nil, prisoners feel they have no other practical option.
The Israeli military boasts over a 99% conviction rate in its military courts. While this is meant to demonstrate the effectiveness of the courts, it actually shows that the entire process of arrest, interrogation and detention under military occupation is completely skewed and lacking justice.
Israel regularly violates international law in the running of the military court system.
Prisons and detention centres
When the Israeli military arrests Palestinians from the West Bank, they are taken to a detention or interrogation centre in the West Bank, occupied Jerusalem or inside Israel. They might stay there for a few hours or even a few days before being released or transferred to a prison. Torture and ill-treatment are systematic and widespread in Israeli detention and interrogation centres.
Detainees serving sentences or awaiting charges are held in prisons inside Israel. Transferring prisoners from the West Bank or Gaza Strip into Israel is a violation of the Fourth Geneva Convention, which prohibits transferring prisoners from occupied territory into the country of the occupation.
Israeli prisons and detention centres are known for their poor conditions and detainees often suffer from medical problems as a consequence, further compounded by the denial of adequate medical care.
Administrative Detention
Administrative detention is a procedure that allows the Israeli military to hold detainees on 'secret evidence' without charging them or allowing them to stand trial. Administrative detention orders can last for six months, but are renewable indefinitely. Administrative detention orders are frequently renewed on or just before the expiry date.
Administrative detention was first used in Palestine by the British colonial authorities in 1937. When Israel declared statehood, it adopted some of the British legal code, including the laws around administrative detention, adjusting them to fit the new colonial reality.
International law permits the use of administrative detention in emergency circumstances. However, Israel uses it systematically and as a punitive measure.
Israel's excessive use of administrative detention is a violation of international law.
Child detainees
An average of 700 Palestinian children (under 18 years old) from the West Bank are arrested, interrogated and detained by the Israeli military each year. The most common charge against children is throwing stones, punishable by up to 20 years in prison.
There are no special interrogation procedures for children detained by the Israeli military, nor are there provisions for an attorney or even a family member to be present when a child is questioned.
A majority of children report being subjected to ill-treatment in Israeli detention. Most children report that they are physically or verbally abused. Sexual harassment and abuse is also prevalent during interrogations. Forced confessions are often extracted this way, and children are often compelled to sign confessions in Hebrew, a language most of them don't know.  
Israel's arrest and detention of Palestinian children violates numerous international conventions and treaties designed to protect the rights of children.
Blocked family visits and freedom of movement
Holding Palestinian detainees in prisons inside Israel makes it extremely difficult for their families to visit, as they need special permits to travel through the checkpoints and Apartheid Wall from the West Bank into Israel. Family visits are reserved for family members who are eligible to receive permits, which are often rejected arbitrarily by the Israeli authorities.
When family members are granted permits to visit, they are required to go through lengthy journeys and endure multiple checkpoints and searches on the way to see their imprisoned loved ones for only approximately 40 minutes. Family members are often subjected to degrading treatment by prison guards and soldiers during visits.
This situation demonstrates one of the many ways that imprisonment is inextricable from the larger context of military occupation. Palestinians' right to freedom of movement is compromised anyway because of the occupation, but doubly so when their family members are taken from them and kept inside the occupation prisons.
International law and UK complicity
Israel's policies of arrest and detention systematically violates numerous elements of international law, including but not limited to:
Prohibition on transferring prisoners from occupied territory into the territory of the occupier (Fourth Geneva Convention)
Prohibition on using administrative detention as a punitive measure
Non-derogable prohibition of torture
Rights of children according to the International Convention on the Rights of the Child
Right to liberty and the right not to be subjected to arbitrary arrest and detention (Universal Declaration of Human Rights, Articles 3 & 9). In this case, this violation may also be considered a 'Crime of Apartheid' according to the International Convention on the Suppression and Punishment of the Crime of Apartheid
Several of these violations constitute war crimes.
International corporations are complicit in these violations when they support and supply the Israeli prison system. British private security company G4S provided equipment and services to Israeli prisons and detention centres until it was pressured to drop its Israeli subsidiary by BDS campaigns.
The UK government continues to trade weapons with and provide other diplomatic support for Israel, despite clear knowledge of these violations. The UK government has obligations under international law to ensure that the Fourth Geneva Convention is respected by other signatories, including Israel. The UK also has 'third state responsibility' to take action when a state breaches the universally binding principles of international law, such as the prohibition of torture. This means that the UK government must act to hold Israel to account for its policies towards Palestinian political prisoners.
Prisoner advocacy and solidarity
Despite the difficult conditions of their detention, and against incredible odds, Palestinian political prisoners actively campaign for their individual and collective rights. In the absence of adequate judicial remedies, Palestinian prisoners and detainees sometimes resort to hunger strikes as legitimate peaceful protest. Palestinians have been able to obtain basic rights and to improve their detention conditions through hunger strikes, though the health risks are serious and can cause permanent physical damage.
In July 2015, the Israeli Knesset (parliament) passed a bill proposed by Gilad Erdan, Israeli minister of Public Security and head of the anti-BDS task force, to allow force-feeding of hunger-striking prisoners, a practice widely considered torture.
As nearly every Palestinian family has been affected by Israel's detention policies, care and concern for political prisoners is common and an important part of Palestinian political life. Palestinian Prisoners' Day is observed every year on 17 April. On this day, and throughout the year, families of prisoners often hold protests and vigils holding photos of their imprisoned family members to keep their stories alive.
Take action
While it's important for us to learn about the individual stories of political prisoners, we must also take action. The best form of solidarity is working to end the root cause of these violations: Israel's military occupation and system of apartheid.
The UK government repeatedly expresses concerns about Israel's detention policies and practices, but more pressure is needed to turn words into mechanisms of accountability.
Palestinian civil society groups have called for boycotts of and divestment (BDS) from companies complicit in Israel's system of detention until they stop providing this material support for violations of Palestinian rights. They've also called for us to pressure our government to uphold its obligations under international law not to aid and abet war crimes.