Waive intellectual property rules to end the pandemic
This article was published on
| News and analysis
Image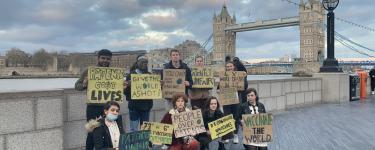 Whilst life is returning to normal for many, for billions of people in the Global South vaccination against Covid-19 remains a distant dream. Without urgently increasing access to vaccines, tests and treatments,  humanity runs the risk of new, vaccine resistant variants. But there is an alternative. 
It's now been two years since the World Health Organisation (WHO) declared a global pandemic. Widespread access to vaccines, tests and treatments in the UK means that life here has started to return to normal, even if that "normal" is a vastly more unequal and unjust place, poorly equipped to deal with future global health crises.  
Although the pandemic has slipped from the headlines, this grim anniversary is marked by an estimated 19.6 million deaths because of Covid-19. Recent analysis shows that the distribution of this global tragedy has been highly unequal – with the death toll four times higher in some Global South countries than here in the Global North. People across the world are continuing to die every day from Covid-19. Billions more face hunger and economic hardship as a result of the pandemic.  
While we have seen vaccine hoarding in rich countries such as the UK, in low-income countries across Africa, just 8% of the population is fully vaccinated. We are far off track to meet the WHO's goal of vaccinating half of the world by the middle of 2022.  
Expand the production of vaccines 
A recent study showed there are at least 120 manufacturers in Asia, Africa and Latin America which could produce mRNA Covid-19 vaccines. However, without a change to the intellectual property rules, they can't.
A waiver of the intellectual property rules on vaccines, tests and treatments for Covid-19 – a game-changing proposal made at the World Trade Organisation – would remove a huge barrier preventing poorer countries from protecting their people. Global South countries could produce vaccines, tests and treatments without facing the risk of expensive lawsuits or retaliatory sanctions.  
The UK is protecting the profits of pharmaceutical companies 
Even though much of the research into Covid-19 vaccines and treatments is funded by taxpayers, vaccines have become the private property of big pharmaceutical companies which have made billions in profit from the pandemic. 
More than 120 countries support the waiver of intellectual property rules to tackle Covid-19. But the UK, the EU and Switzerland don't. By blocking the waiver, the UK government has chosen to protect the profits of pharmaceutical companies at the expense of human lives, and the risk of possible deadlier variants emerging.  
At a time when many are experiencing deep economic hardship, pandemic profiteering has minted 40 new Covid-19 billionaires, who have reaped profits from vaccines, treatments, tests, and personal protective equipment. 
By failing to make Covid-19 vaccines, tests and treatments accessible to all, an unconscionable injustice is being done to the poorest globally, through needless illness, death, and hardship. And we are inviting further disaster in the form of new variants.  We urgently need an intellectual property waiver. Pharmaceutical corporations' pandemic profiteering must be stopped.