Western Sahara
Morocco has occupied Western Sahara since 1975. Decades later, tens of thousands of Saharawi people are still living in a state of siege and face appalling human rights abuses and repression.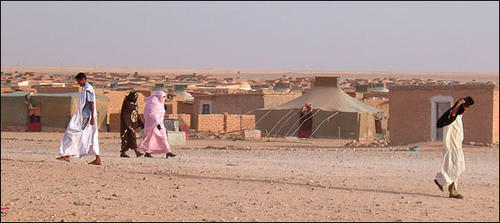 In addition 165,000 refugees live on an inhospitable plain in the Sahara desert. Temperatures range from the scorching to the freezing, water is scarce, access to the outside world is difficult. The people of Western Sahara have been forced to live here, struggling to return to a homeland where they can determine their own future.
On 31 October 1975, Morocco and Mauritania invaded Western Sahara as Spain (the former colonial power) looked on. The Saharawi people were expelled from their homes by force, including the use of napalm. Most fled to the Algerian desert.
Mauritania withdrew its claim to Western Sahara in 1979 and left. But Morocco stayed. The Saharawi people declared their own Republic in exile, which is now recognised by 60 other states. Yet the world still refuses to uphold international law and bring the Occupation to an end.
We are campaigning for self-determination for the people of Western Sahara.
We urge the UK government to:
press the Moroccan government to accept international law and repeated UN Security Council resolutions enabling the Saharawi people to vote on the independence of Western Sahara
press the Moroccan government to respect human rights in the occupied territories of Western Sahara
provide a clear and positive lead in the UN Security Council in support of the right of the Saharawi people to self-determination
stop all arms sales to Morocco, until there is a sustainable peace agreement for Western Sahara.
Join the conversation
Farmers in India are the heart of the country, where agriculture supports more than half of the country's 1.3 billi… https://t.co/XrvWgbitgU
—
17 hours 28 min ago
The pandemic shock doctrine has meant that big agri-corporations have profited while family farmers bear the brunt… https://t.co/TRjxlJMr7l
—
17 hours 28 min ago
To put it into perspective, the number of people laying-down tools represents 3% of the world's population, one-thi… https://t.co/PwFv3dTDUw
—
17 hours 28 min ago