BDS Victory: HSBC Divests from Elbit
This article was published on
| News and analysis
Image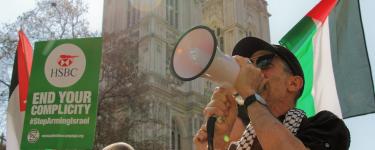 HSBC confirmed that it has fully divested from Israeli drone manufacturer Elbit Systems, which sells weapons to the Israeli military used in attacks on Palestinians.
Over 24,000 War on Want supporters and allies emailed HSBC with concern over its investments in Elbit Systems and other companies selling weapons to Israel's military, and 40 HSBC branches across the UK were picketed monthly for the same reason.
The campaign will continue, as HSBC maintains business relations with more than a dozen other companies selling weapons and technology to the Israeli military.
Campaigning works
Global banking giant HSBC confirmed to us that it has divested completely from Israeli weapons manufacturer Elbit Systems after a year of campaign pressure.
Elbit Systems is one of Israel's largest arms manufacturers, notorious for its deadly drones used in attacks on Palestinian civilians, and marketed abroad as 'combat proven'. The company has also manufactured white phosphorous and artillery systems that can be used for cluster munitions.
Elbit Systems has been excluded from pension and investment funds around the world over the company's involvement in supplying surveillance systems and other technology to Israel's illegal Apartheid Wall and settlements in the West Bank. Elbit has also supplied surveillance technology for use along the U.S.-Mexico's border.
HSBC's link with Elbit Systems was first exposed in 2017 in our 'Deadly Investments' report on UK banks' business dealings with companies selling military equipment and technology to Israel. We published the report in July 2017, calling on HSBC to divest from companies selling military equipment and technology to Israel. The campaign received a critical boost when the Palestine Solidarity Campaign and other groups joined, picketing bank branches across the UK over its connections to Elbit and other companies.
HSBC has a 'Defence Equipment Sector Policy' which specifies that the bank would not provide financial services to companies involved in the production or selling of cluster munitions. We pointed out that its involvement with Elbit Systems, even if 'on behalf of clients' as the bank long claimed, violated this policy as well as the UN Guiding Principles on Business and Human Rights.
Elbit Systems is rumoured to be on a list currently being compiled by the UN Human Rights Commissioner of companies that are violating international law by providing support for Israel's illegal settlement enterprise.
HSBC has taken a positive first step in divesting from Elbit Systems, the notorious manufacturer of drones, chemical weapons, cluster bomb artillery systems, and other technology used in attacks against Palestinian civilians, and to militarise walls and borders around the world. Doing business with companies like Elbit means profiting from violence and human rights violation, which is both immoral and a contravention of international law.
However, HSBC continues to do business with over a dozen companies selling military equipment and technology used in human rights violation, including Caterpillar, whose bulldozers are used in demolition of Palestinian homes and properties, and BAE Systems, whose weapons are used in war crimes by Israel, Saudi Arabia, and other repressive regimes. Until it ends its support for companies arming repression, the campaign will continue! 
This victory wouldn't have been possible without our members and supporters who help sustain our research and campaigns.
Will you donate to War on Want and help us continue our hard-hitting research and campaigns?