Stop ISDS!
This article was published on
| News and analysis
Image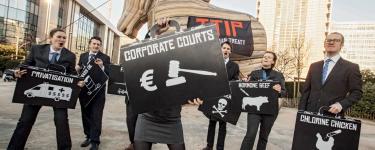 ISDS is an unjust mechanism that should have no place in the UK's trade and investment policy.
Imagine a world where transnational corporations don't have to follow the same laws as everyone else, but instead have their own corporate courts, where the law is tailored to their interests. Not courts where the companies are put on trial, but where corporations sue governments for huge sums of money and bully countries to get their own way.
It sounds like dystopian science fiction, but corporate courts are real. Formally known as investor state dispute settlement (ISDS), these special privileges are granted to transnational companies by rules in trade and investment deals.
ISDS has enabled corporations to sue countries into the billions, for doing almost anything they don't like – environmental protection, regulating finance, renationalising public services, anti-smoking policies – you name it, on the chance that decisions like these could affect their profits:
Infinito Gold is suing Costa Rica over the introduction of a ban on open cast mining for metals
Cargill sued Mexico when it first introduced tax on sugary drinks
Ethyl sued Canada over a ban on the chemical MMT in petrol, which is suspected of causing nerve damage
Vattenfall is suing Germany for deciding to phase out nuclear power following the Fukushima nuclear disaster
Lone Pine is suing Canada over a fracking moratorium in Quebec
Veolia sued Egypt over the introduction of a minimum wage.
ISDS is an unjust mechanism that should have no place in the UK's trade and investment policy.
Find out more
Read our introduction to ISDS: The case against corporate courts.
Investigate the impact of ISDS in our case files:
Take action
These corporate courts are written into thousands of trade and investment deals around the world. But the global fightback has started.
Across the world, countries have been rejecting ISDS: South Africa, India, Ecuador, Tanzania, Indonesia and New Zealand have all taken steps to review, limit or terminate existing ISDS deals and refuse to sign new ones. At the same time, the movement against TTIP and CETA – the EU's trade deals with the USA and Canada – has exposed its illegitimacy. The system is vulnerable.
Campaigners all across Europe are gearing up to create an unstoppable momentum for change in our own countries. We're at a tipping point, and if enough of us come together, we could bring ISDS down altogether.
As the UK prepares to sets its own trade policy after Brexit, we are speaking up to say ISDS should have no place in it:
No ISDS in new and replacement trade deals
Removal of ISDS in existing investment deals.