National action for trade democracy
23 November 2017 - 2:30pm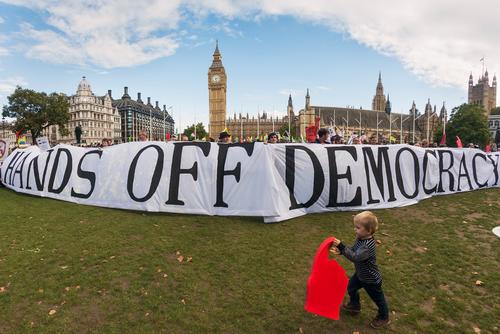 Join a two day mobilisation in February 2018 to build the campaign for trade democracy, organised by Global Justice Now and War on Want.
Thanks to the hard work of activists on the ground, and the brazenness of the government, trade democracy is climbing up the political agenda. Over 100 MPs have signed an EDM calling for increased parliamentary scrutiny over trade deals. The SNP are calling for Scotland to have its own trade policy. People don't want chlorinated chicken flooding UK supermarkets. Now is the time to strengthen the campaign for trade democracy.
Through education, protest, a mass lobby of MPs, and building relationships among activists and campaigners across the country, this two-day mobilisation will do exactly that.
When:  Monday 5- Tuesday 6 February 2018
Where: In and around central and east London
The Plan
Monday 5 February
Monday's activities will be in and around the City of London (around Liverpool Street station tbc), starting around lunchtime. 
Trade impact tour
Get up close to the corporate seats of power: the multinational businesses that wield so much influence over government and state institutions responsible for setting trade policy and law. We will learn about the places where corporate courts are dreamed up and the lobbyists who are so central to the process of corporate influence.
Public meeting: Make trade work for us all
Featuring Barry Gardiner MP, Shadow Secretary of State for International Trade and  Caroline Lucas, co-leader of the Green Party. A panel discussion to debate the latest developments in trade deal negotiations and the arguments needed to win it. 
Trade activists meet-up 
Join other activists to talk trade politics over some food and a social.
Tuesday 6 February 
Trade democracy demo
Gather in a central location with banners, chants and speakers to make our views known. Details to be announced nearer the time. 
Mass lobby of MPs
Meet your MP, present the arguments for trade democracy and try and convince them to support our key demands. There will be support in lobbying skills before this. Please ask your MP for a meeting between 1-6pm on that day.
Post lobby debrief session
For those of you who do not have to catch trains - we will be hosting a feedback session in Portcullis House, opposite Parliament for a drop in debrief session between 5-7pm
Places to stay
If you're coming from outside of London and need somewhere to stay on the Monday night, you could consider some of the following options. Please note, we're providing this list for information, but haven't generally visited the accommodation and can't go as far as to recommend it:
For shared dorm options which tend to be cheaper: www.hostelworld.com
We're encouraging people to come for the full mobilisation, but obviously not everyone will be able to do so, and each event will work as a stand-alone activity as well. We may be able to subsidise your travel from other parts of the UK.
If you're interested in joining these events, please email Nadia at nidle@waronwant.org to apply and discuss the travel subsidy.
Join the conversation
RT @Micha_Frazer: 'McDonald's can afford to pay us £15 an hour – it makes a daily profit of more than £1m in the UK alone. The former… https://t.co/iP1y2ei9MG
—
16 hours 38 min ago
RT @nlondongirl: I'm Jewish and I stand by Jeremy Corbyn. I'll be voting labour for a transformative government with a positive econ… https://t.co/VleY9jISzP
—
17 hours 14 min ago