4. Financial sector land grabs
Without land for agricultural, forest-based, or pastoral production, billions of people globally would not have a livelihood. If displaced from their lands, these people would be forced to migrate to overflowing slums surrounding cities.71   
To guard against this threat, in December 2018 the United Nations General Assembly adopted the Declaration on the Rights of Peasants and Other People Working in Rural Areas (UNDROP), recognising "the special relationship and interaction between peasants and other people working in rural areas and the land, water and nature to which they are attached and on which they depend for their livelihood;" and highlighting their "contribution in ensuring the right to adequate food and food security, which are fundamental to attaining the internationally agreed development goals".  
Against this background, the UNDROP warned of "the increasing number of peasants and other people working in rural areas forcibly evicted or displaced every year." 72  
Image
Between 2011 and 2021, land grabbing increased, as did the threat of land grabs under the guise of ecological management. Across the African continent, the advance of neoliberalism and the decreasing state control of land opened the way for large-scale land purchases. The US and the EU, alongside their allies the United Arab Emirates and Saudi Arabia, are closely interlinked with northern monopoly capital.74  
The purchased land produces profitable crops for outside investors, which is nothing new. What is new is the intensity, the scale and the interconnection of corporate mergers, as is the increasing role these mergers play in the financial markets.  
FOCUS: The United Nations Declaration on the Rights of Peasants and Other People Working in Rural Areas. 
The United Nations Declaration on the Rights of Peasants (UNDROP) is the result of 17 years of struggle and negotiation by peasant movements around the world, mobilised through La Via Campesina. It is the first declaration of its kind that has been written by peasants, for peasants. 
This document is hugely important for peasant movements and other people working in rural areas around the world, representing for the first time a United Nations declaration recognising their human rights. The declaration's definition of rights-holders is wide and includes peasants, their dependents, Indigenous people, pastoralists, nomadic and landless people, hired workers, migrant workers, and seasonal workers. 
The UNDROP sets out the obligations of nation states to respect, protect and fulfil the rights of peasants and other people in rural areas. The concept of food sovereignty is included in the declaration, as well as other important rights:73
The right of peasant women and other women living in rural areas 

The right to seek, develop and impart information about the processing and marketing of peasants' products 

The right to access to justice 

The right to land, seeds, water, biodiversity and other natural resources 

The right to food and the right to be free from hunger 

The right to food sovereignty and the collective right to a healthy environment 

The right to an adequate standard of living 

The right to social security, the right to health and the right to housing 

The right to education, and the right to adequate training suited to specific agroecological, sociocultural and economic environments in which peasants find themselves 

The right to enjoy culture and pursue cultural development freely 
Although the UNDROP is not legally binding, it is an important recognition of peasants' human rights, and an instrument for peasant movements and organisations to campaign for these rights to be translated into national policies and legislation, as well as to claim their rights before courts. 
The UNDROP was approved and officially adopted by the United Nations General Assembly on 17 December 2018. 121 countries voted in favour of the declaration, 52 abstained and only 8 countries voted against: the United Kingdom, together with Australia, Guatemala, Hungary, Israel, New Zealand, Sweden and the United States. 
Speculation driving land grabbing 
Since the 2007-2008 world financial crisis, which mainly affected the real estate market, the global financial markets have repurposed their investment portfolios and diversified into new projects. Financial players, such as investment banks, asset management companies, insurance companies and venture capital funds, have now penetrated all sectors of the economy, and the logic of financial markets has been introduced into areas where it was previously absent, such as the agricultural sector.75 This new speculation in commodities has contributed to the rise of global food prices. 
New financial 'assets' include land, water, oceans, forests, cities, and biodiversity. The world's common goods have been transformed into investment portfolios and opportunities, through derivatives or future contracts, entering the speculation market.76 The futures market in food was originally set up in the mid-20th century to allow producers and anyone in the food chain to make a contract with a dealer and ensure a decent price for the food produced. However, the liberalisation of the futures market 20 years ago means that speculators can now make money by betting on foodstuffs via financial operators who are not in the food chain. Banks are also betting on staple food prices in these unregulated financial markets and earning large profits.  
Today, land has become an increasingly popular portfolio investment, and the financialisaton of agriculture has had a huge effect on food prices, through speculation on agricultural futures on international markets.77 Farmland and agricultural activities are increasingly being treated as an 'investment play'. Between 2005 and 2017, approximately US$45 billion was invested in farmland by institutional investors such as pension funds, endowment funds, insurance companies, and high-net worth individuals.78 Bill Gates, for example, is now the largest farmland owner in the United States.  
In the same period, the number of global investment funds specialising in food and agriculture assets skyrocketed from 38 to 446, with current assets under management surpassing US$73 billion, excluding timber.79   
The US-based NCREIF Farmland Income Index (National Council of Real Estate Investment Fiduciaries) is one of the few sources of institutional farmland investments focused on US-based investment. This index (Figure 1) increased from US$1.1 billion to US$8.1 billion between 2008 and 2017, with similar upward trends reported from other major crop-producing regions on a global scale. The amount of farmland funds on a global level has also increased dramatically, making it one of the most desired food and agricultural assets for international investors (Figure 2).80
Figure 1: Evolution in the number of global funds for farmlands in the last decade (2005-2020)
Number and market value of institutionally owned properties in the NCREIF Farmland Property Index, 1991–2018 (Q2).
Image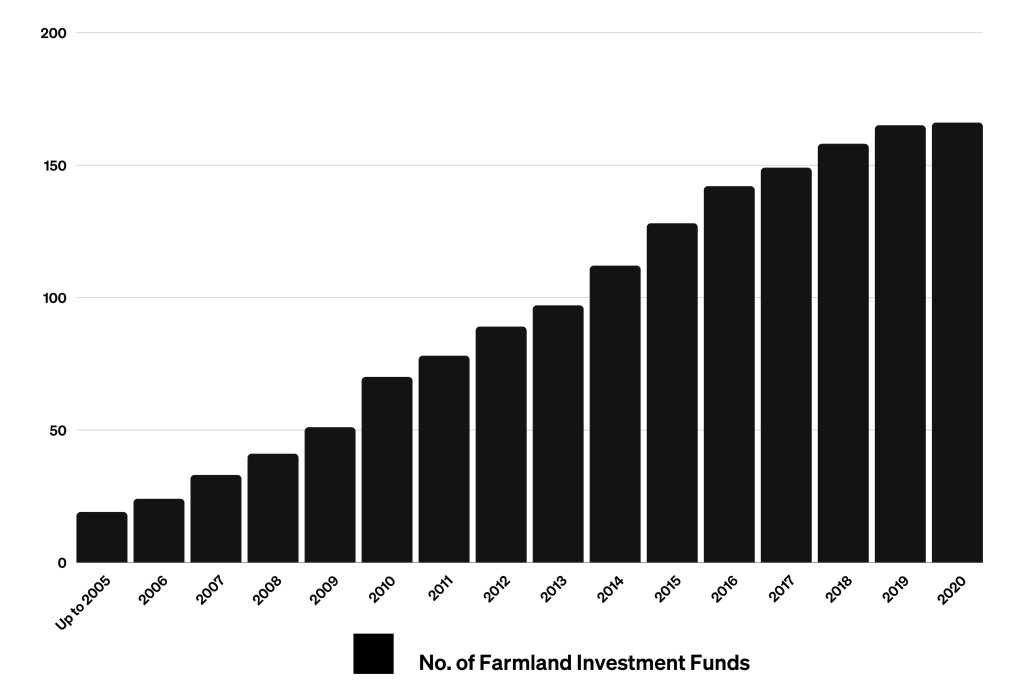 Figure 2: The global land grab: financial markets threatening the right to land
Evolution in the number of global funds for farmlands in the last decade
Image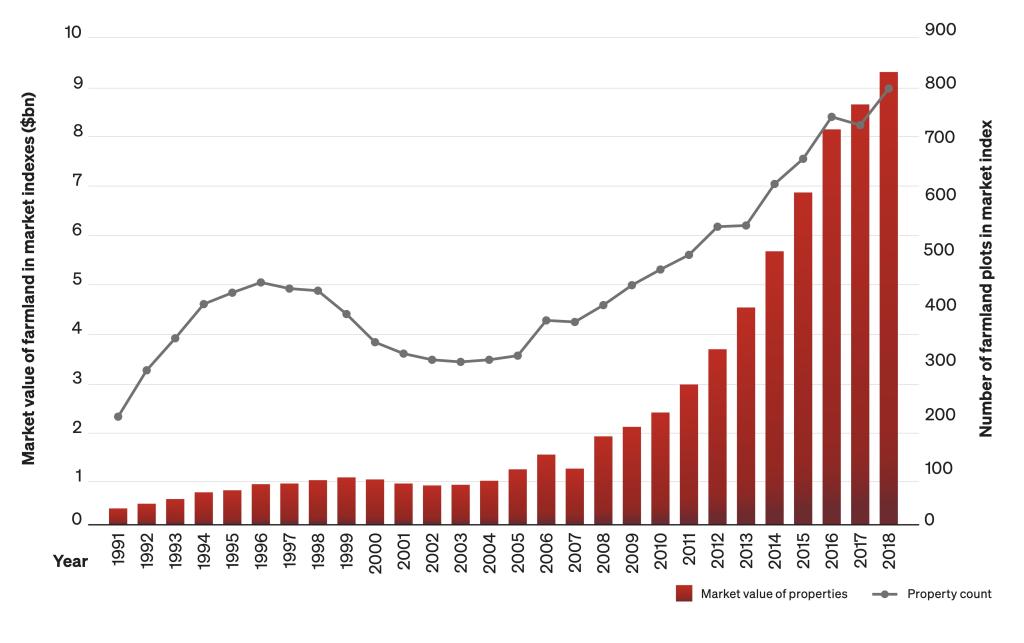 This financialisation of agricultural land threatens the entire basis of farming.  It drives up the global price of farmland and demands that farmers produce what is most profitable, rather than what is most needed. It also threatens the right to land and risks the displacement of peasants and Indigenous communities. 
Elsewhere, concern for biodiversity and conservation threatens further land grabbing in the form of the Half-Earth Project: a plan to set aside half of the planet. Other international proposals call to protect at least 30% of the planet to save the Earth's biodiversity.82 However, these plans would be hugely harmful to the many land-dependent people currently living on the designated areas if they are not involved in conservation planning. Whether Half-Earth is the appropriate framework for conservation is another question, given the widespread examples of landscape management which meet both biodiversity and human needs, such as the tapestry-like 'nature's matrix' approach.83   
FOCUS: UK pension funds and land grabs
UK pension funds are among the main financial companies heavily investing in land and driving the financialisation of agriculture, while making huge profits. At least £37.3 billion was invested by UK pension funds in land grabs worldwide, according to a 2014 report from Friends of the Earth. The research found that the top 10 UK private pension funds had combined direct investments of £1.8 billion in 23 high-risk and land grabbing-associated companies, and that 17 asset management firms had total investments of £35.5 billion in shares and bonds.84  
The report named the top 10 UK private pension funds as: BP Pension Scheme, Universities Superannuation Scheme, British Airways Pensions, RBS Group Pension Fund, Lloyds Banking Group Colleague Pensions, Railways Pension Trustee Company, Barclays Bank Pension Fund, BT Pension Fund, National Grid UK Pension Services and Royal Mail Defined Contribution Plan. Most of the investments were in biofuels, food and beverages, plantations (palm oil, trees), extractives (oil and gas, coal, steel), agricultural inputs (seeds, fertilisers, chemicals) and grain traders.
71Mike Davis, Planet of Slums (London; New York: Verso, 2006).
72UN Human Rights Council (39th sess: 2018 : Geneva), "United Nations Declaration on the Rights of Peasants and Other People Working in Rural Areas :," October 8, 2018, https://digitallibrary.un.org/record/1650694
74Sam Moyo, Praveen Jha, and Paris Yeros, Reclaiming Africa: Scramble and Resistance in the 21st Century (Springer, 2018).
73La Via Campesina-FIAN, United Nations Declaration on the Rights of Peasants and Other People Working in Rural Areas. Introductory Booklet, 2021.
75Madeleine Fairbairn, Fields of Gold: Financing the Global Land Rush (Cornell University Press, 2020).
76FIAN International, Transnational Institute, Focus on the Global South. "Rogue Capitalism and the Financialization of Territories and Nature, September 2020, https://www.foodsovereignty.org/roguecapitalism/
77"A futures contract is a standardized advance commitment, negotiated on an organized futures market, to deliver a specified quantity of a precisely defined underlying asset at a specified time – the 'delivery date' – and place. Futures contracts are the most widely traded financial instruments in the world". (CADTM definition, https://cadtm.org/)
78Laperouse, 2016:1, in S.Ouma "This can('t) be an asset class: The world of money management, "society", and the contested morality of farmland investments", https://journals.sagepub.com/doi/full/10.1177/0308518X18790051 accessed in August 2022.
79Valoral Advisors, "Global Food Agriculture Investment Outlook", 2018: https://www.valoral.com/wp-content/uploads/2018-Global-Food-Agriculture… accessed August 2022.
80Ibid.
82Yiwen Zeng, Lian Pin Koh, and David S. Wilcove, "Gains in Biodiversity Conservation and Ecosystem Services from the Expansion of the Planet's Protected Areas," Science Advances 8, no. 22 (2022): eabl9885.
83Forrest Fleischman et al., "Restoration Prioritization Must Be Informed by Marginalized People," Nature 607, no.7918 (2022): E5–6; Bram Büscher et al., "Half-Earth or Whole Earth? Radical Ideas for Conservation, and Their Implications," Oryx 51, no. 3 (2017): 407–10; Ivette Perfecto, John H. Vandermeer, and Angus Lindsay Wright, Nature's Matrix: Linking Agriculture, Conservation and Food Sovereignty (Earthscan, 2009).
84Wijeratna, Alex, Chandrasekaran, Kirtana & Lowe, Samuel (2014), Friends of the Earth, "What's Your Pension Funding? How UK Institutional Investors Fund the Global Land Grab". 10.13140/RG.2.2.19323.36649.