Gaza under attack
On 7 July 2014 Israel initiated Operation Protective Edge, launching bombardments from land and sea and eventually deploying raids by ground forces.  While the pretext for the attacks was a search for the killers of three Israeli teenagers, Israeli forces exploited the opportunity to arrest many of the prisoners who had been released in a 2011 prisoner exchange.
The results of this latest example of a policy of collective punishment have been devastating.  By the estimates of the UN Office for the Coordination of Humanitarian Affairs, nearly 200 Palestinians had been killed by 14 July, at least 77% of whom were civilians.  War on Want partner Defence for Children International (Palestine section) has said the death toll of children had reached 34 by the same date.
As with the two previous attacks in the last six years, the British government response has been to overlook Israeli disregard for international law and crimes against the Palestinian people.  In his statement on the escalating violence in Gaza, then Secretary of State William Hague argued that  "Israel has a right to defend itself against indiscriminate rocket attacks, but it is vital that Gaza's civilian population is protected."
Israel's latest attack on civilians in Gaza is a war crime, made possible only through the continued financial, military and diplomatic support its government receives from western states.  We call on the UK government to stop aiding and assisting Israel until it complies with international law.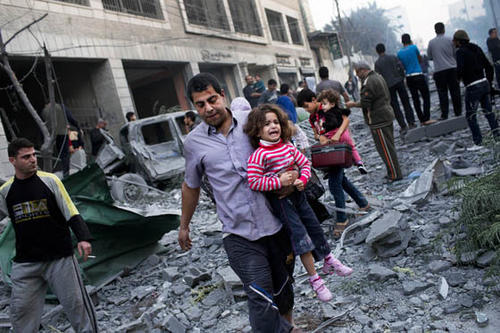 Photo credit: Bernat Armangue, AP
On 14 November 2012, the Israeli army began attacking Gaza with drones, Apache helicopters, F-16 fighter jets and naval vessels. Israel launched its offensive, dubbed Operation Pillar of Defence, with the assassination of Ahmed al-Jabari, chief of staff of Hamas' military wing. For eight days, civilian areas of Gaza were bombarded by Israel from air and sea, with horrific effect. The UK government  failed to condemn Israel's military attack on Gaza. Instead, the UK continues to sell arms to Israel, providing it with the means with which to carry out its acts of aggression.
The Israeli siege of Gaza is one of the most brutal manifestations of the Israeli Occupation. The latest attack is part of an ongoing policy of collective punishment and killing practised by Israel against the people of Gaza. Since 2000, the Gaza Strip has been subject to a series of Israeli closure policies designed to isolate and restrict the movement of people and goods. Israel imposed further economic restrictions on Gaza after Palestinians elected Hamas into government in 2006. When Hamas took control in 2007, the Gaza Strip was placed under military siege by Israel – blockaded by land, sea and air.
Gaza is one of the most densely populated areas in the world. The siege has created a humanitarian catastrophe. Four out of five Gazans are dependent on food aid to survive. The siege has left 34% of Gaza's workforce unemployed, including over half its youth, and 44% of Gazans food insecure with 85% of schools running double shifts. A severe fuel and electricity shortage results in outages of up to 12 hours a day, and some 90 million litres of untreated and partially treated sewage are dumped in the sea each day.
In December 2008, Israel embarked on a three-week assault on the people of Gaza codenamed Operation Cast Lead. The attack left over 1,400 Palestinians dead, including more than 300 children, and over 5,000 wounded. The United Nations Human Rights Council found evidence of war crimes and crimes against humanity during the three weeks of the assault. Yet Israel experienced no international sanctions in response to its atrocities.
Israel's latest attack on civilians in Gaza is a war crime, made possible only through the continued financial, military and diplomatic support Israel receives from Western states. The UK government and other EU member states are rewarding Israeli aggression with economic trade preferences. The UK government has licensed the sale of millions of pounds' worth of arms to Israel, including key components for F-16 fighter jets. Such equipment was used during the 2009 assault on Gaza and the British government has repeatedly admitted it does not accept Israeli assurances that British arms will not be deployed in the Occupied Palestinian Territories.
» Act now to tell the UK government to Stop Arming Israel
The root cause of the crisis in Gaza is Israel's illegal occupation. The principal barrier to peace with justice is Israel's continuing violations of human rights and international law and its policies of collective punishment. War on Want is committed to playing its part in the search for a lasting peace based on justice for the Palestinian people, ending violence once and for all. 
Join the conversation
Funding settlements, as Abramovich has done, means the forcible transfer of Palestinians, which is a violation of i… https://t.co/9HM1hUsUQO
—
1 hour 39 min ago
'Reclaiming the Food System: The fight for the Right to Food' Catch @NnimmoB's speech on colonial agriculture,… https://t.co/7bjVU1BfTx
—
8 hours 14 min ago