Show McSolidarity this International Workers Day
The McStrike is back and bigger than before. Workers at three new stores in Manchester and Watford will be joining McStrikers at Camrbidge and Crayford and going on strike on International Workers' Day (Tuesday 1 May 2018).
The workers are going on strike for: 
A living wage of £10 an hour (and an end to the "Youth Rate") 
A choice of fixed hour contracts
For their right to a union to be respected.
As these brave workers take a stand against the world's second largest private employer, anything you can do to show your solidarity will help. 
Lewis Baker, a McDonald's worker in Crayford, said:
"Every message of support builds our confidence as we stand up to this bullying company and demand a fair wage and respect on the job. When we stand on the picket line we are standing up for everyone. When we win everyone wins! Get your McStrike on and show your McSolidarity!"
We've put together the following list of actions to help show your McSolidarity. 
1)
Publicise and mobilise for the pickets –
 if you are in the area of one of the pickets then please do share on your social media:
2)
Travel to the Demonstration in Watford
(12:00-13:30, Watford High St): 
McStrikers will come together to demonstrate in Watford, the hometown of multi-millionaire global CEO Steve Easterbrook.
3)
Email Paul Pomeroy McDonald's UK CEO
, asking him to respect McDonald's workers right to join a union (and share with your friends):  
4)
Show your McSolidarity on on Social Media:
5) Follow the McStrike on Social Media 
Re-Tweet and share your support. You can follow the McStrike here: 
Remember to use the #McStrike Hashtag.
6)
Change your profile picture
on social media (and encourage others to do the same).
a) Right click here.
b) Click on Save Link As (remember where you saved it!)
c) Go to your social media profile and hover over your profile picture
d) Click Update Profile Picture
e) Upload the photo from where you've saved it
f) Click Save
7)
Get your trade union branch to pass a motion
of support:
There is a draft motion
here
. (If you are not a member of a trade union, join one!) 
9) Sign up for War on Want Updates:  
You'll receive news about this and other cutting-edge global campaigns for workers' rights. You can sign up here.
---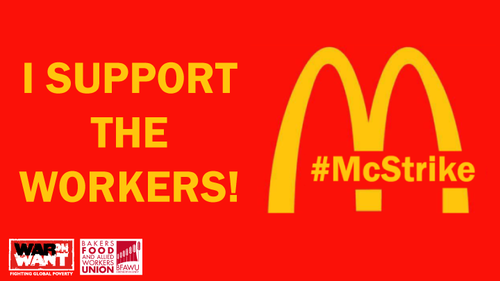 Join the conversation
Ending free movement suddenly could make any EU citizen who hasn't obtained settled status vulnerable to the… https://t.co/2YWMUGVCuy
—
10 hours 24 min ago
Emergency demo: The Armenian government gave the go-ahead for a toxic gold mine at Amulsar Mountain, caving to pres… https://t.co/ntEY1oR6cL
—
11 hours 48 min ago