The Wall must fall — more than 10 years justice denied
More than a decade has passed since the International Court of Justice (ICJ) ruled that the construction of Israel's Apartheid Wall and its associated regime in the occupied Palestinian West Bank – of Israeli settlements, land confiscation, separate roads, permit systems and movement restrictions – is illegal under international law. The ICJ ruled that Israel is legally obliged to dismantle the Wall and to make reparation for all the damage caused by its construction.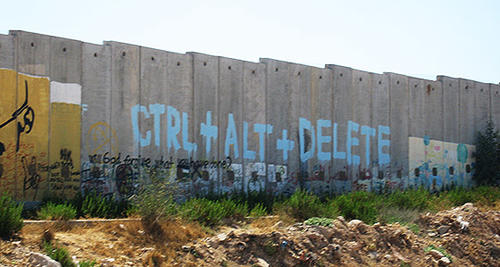 The ICJ also ruled that third states are under an obligation not to recognise, aid or assist the illegal situation resulting from the construction of the Wall. The Court specifically asserted that the High Contracting Parties to the Fourth Geneva Convention "are under an obligation, while respecting the United Nations Charter and international law, to ensure compliance by Israel with the international humanitarian law as embodied in that Convention."
Yet construction of the Apartheid Wall continues to this day devastating every aspect of Palestinian life. Cutting deep into the Occupied Palestinian West Bank, the Apartheid Wall seizes vital water resources and fertile land, while imprisoning Palestinian communities.
Despite the fact that Israel has ignored the ICJ ruling, the British government continues business as usual with Israel. War on Want calls on the British government to live up to its obligation under the ICJ ruling and stop aiding and assisting Israel until it fully complies with international law.
In Palestine, people have continued to resist the Wall with popular protests, court cases and direct actions. Read more from the Palestinian Stop the Wall campaign.
Join the conversation
UN expert calls for Israel to end practice of administrative detention and immediately release Maher Al-Akhras, a P… https://t.co/kZyNJ1xXsf
—
6 hours 46 min ago